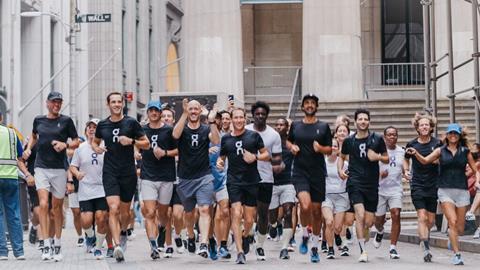 100 runners, along with the founders of On, David Allemann, Caspar Coppetti and Oliver Bernhard, and co-CEOs Martin Hoffmann and Marc Maurer ran alongside the Hudson River and over to Wall Street on the morning of Sept. 15 to ring the opening bell on the New York Stock Exchange.
Investors apparently rushed to buy the new Class A shares offered by On Holding (ticker symbol "ONON") and some of its shareholders as they started trading on the NYSE at around $35 per share, well above a price of $24 that the company had announced yesterday for its initial public offering. At this level, the company's valuation is going to be higher than $9.6 billion.
On had previously raised its target range from $18-20 to $20-22. The company had also said that a proposed overallotment of additional shares has already been fully subscribed, bringing the total offering up to 35,765,000 shares.
The closing of the offering is set to take place on Sept. 17, subject to the satisfaction of customary closing conditions.
More on SGI Europe.