U.S. outdoor brand Patagonia just released a short documentary film to raise awareness for the Vjosa, one of the last wild rivers in Europe.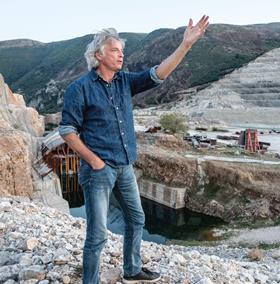 The six-minute video "Vjosa Forever" (watch below) asks concerned citizens everywhere to show their support for the establishment of Europe's first wild river national park in Albania and bring international attention to the environmental disaster that could ensue if it remains unprotected. Research shows that 94 percent of Albanian people are in favor of establishing this protected zone. With national elections on April 25, Albanian and international nature conservation groups such as EcoAlbania, RiverWatch and EuroNatur are calling on the political leaders to make the park a major priority for any winning party.
The Vjosa is Europe's largest wild river outside of Russia. For more than ten years, local activists, international groups, scientists and artists have fought against the roughly 30 planned hydropower projects in the Balkans. In Sept. 2020, Albanian politicians publicly announced the establishment of a Vjosa wild river national park and the entire network of tributaries. However, since then, local citizens and activists have become increasingly alarmed that, behind closed doors, compromises are being made and that the river is in danger.
Ahead of upcoming Albanian parliamentary elections, citizens and conservationists are demanding political support for the establishment of the park, creating public awareness with the #VjosaNationalParkNow social campaign. The newly released video by Patagonia is one out of many environmental projects the brand has supported during the last decades.
Photos: © Andrew Burr