For next winter, glove specialist Reusch is striving to further improve its overall environmental footprint with its Taking Care responsibility program. Following an audit by the German consultancy Fokus Zukunft, not only in-house measures, such as a CO2 offset for all emissions or better forecasting to avoid air freight, have been taken. Already in the past winter season, no product from mass production was shipped by air freight.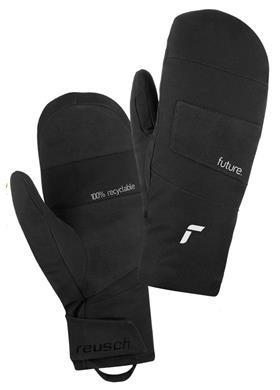 The FW 21/22 product line also shows an increase in PCF-free materials: more than 60 percent of SKUs already have a PFC-free shell or will receive one in the next production cycle. A holistic communication concept with a subpage on the company website and product tags is already in the works. The next step will be to publish a UN Global Compact sustainability report. Reusch's headquarters in Bolzano, Italy, and the warehouse near Milan are to become climate-neutral this year, and an expanded repair and recycling service is in the pipeline.
A first product to lead the way is the new Futu:re Glove. It is made entirely of polyester from the same family and is therefore fully recyclable. For the project, Reusch collaborated with the Berlin-based startup Kleiderly. Alina Basi, the founder of Kleiderly and member of the Forbes 30 under 30 class of 2020 in the manufacturing and industry category, has developed a patent-pending technology to recycle waste clothing into new and sustainable material to create a circular economy and divert clothing waste away from landfills and incinerators.