Trade on e-commerce marketplaces is growing. Cross-border marketplaces are playing a major role in this. In a comprehensive study, the research platform Cross-Border Commerce Europe shows who the most important market players and what the most important trends are. We have summarized the most important findings for the sporting goods industry.
Cross-border e-commerce business in Europe (EU 28 including the U.K., Switzerland and Norway but excluding the travel segment) had a turnover of €237 billion in 2021. Marketplaces accounted for around €141 billion (59 percent) of this.
The industry giants Amazon (€51 billion) and eBay (€25 billion) are together responsible for more than half of the sales volume.
The revenue of the 100 largest cross-border marketplaces grew to €128 billion in 2021. The growth is likely due primarily to the Covid-19 pandemic. Compared to 2020, revenue increased by 22 percent. And C2C marketplaces recorded year-on-year growth as high as 41 percent.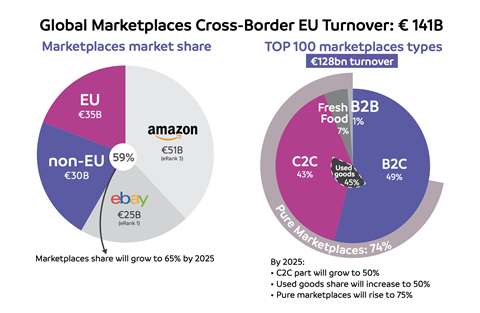 This makes C2C marketplaces the clear winners in the trend. It's worth taking a closer look: The top-ten marketplaces eBay, Etsy (including Depop) and Vinted are the leaders in the secondhand business. All are pure marketplaces, and most are based on the C2C model. Currently, 44 of the top 100 marketplaces sell used goods. The most important categories here are secondhand and vintage fashion. The marketplaces Vestiaire Collective (45th place) and TheRealReal (51st place), which operate in the luxury segment, are also becoming increasingly successful.
The experts at Cross Border Commerce Europe expect the share of C2C secondhand sales in the marketplace segment to rise from 45 to 50 percent by 2025.
Supporting this trend is the fact that C2C auction marketplaces are also on the rise. An example is 1stDibs (31st place), which sells antique and contemporary furniture, home accessories, art, jewelry, watches and fashion through C2C auctions.
The share of secondhand providers among the most important online retailers in the fashion segment is also growing significantly, as shown by the study on Fashion Online Retail 2021.
A glance at the industry giants reveals the power of Amazon. Its marketplace is growing continuously, and has secured the top position in a comparison of cross-border marketplaces – displacing eBay, which has slipped to third place since the previous year. AliExpress has been able to cling to second place. Wish has left the top ten, but Bandcamp has returned to it, at number eight.
The top ten cross-border marketplaces in Europe at a glance:
Amazon (U.S.)
AliExpress (China)
eBay (U.S.)
Etsy (U.S.)
OLX (Netherlands)
Discogs (U.S.)
Vinted (Lithuania)
Bandcamp (U.S.)
Uber Eats (U.S.)
Zalando (Germany)
Find detailed information and methodology on https://www.cbcommerce.eu/