In an online ceremony hosted by the Scandinavian Outdoor Group (SOG), two Finnish companies were among the six winners of the Scandinavian Outdoor Awards for Spring/Summer 2022: Sasta (based in Nurmes) and Halti (headquartered in Vantaa, Lapland).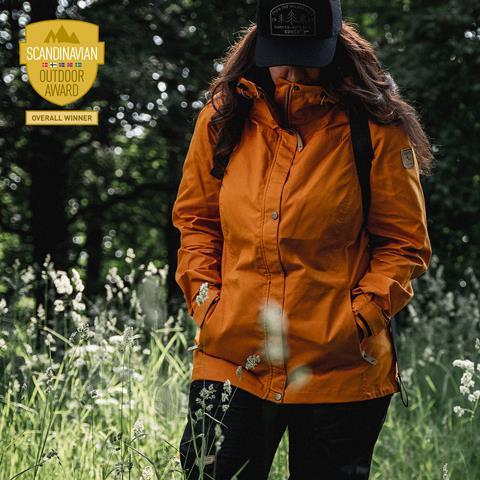 The Overall Winner of Scandinavian Outdoor Award is Sasta with its Mella+ Jacket, a classic cotton/polyester blend outdoor parka with a focus on inclusion, targeting plus-size women. The jacket made from tightly woven, wind and water-shedding fabric is made of 65 percent recycled polyester and 35 percent organic cotton and has a PFC-free water repellent finish from Nikwax. Juha Latvala, CEO of Sasta, said: "We feel that this win is more about inclusivity for the outdoors, rather than specific technical innovations." The brand based in Nurmes is providing outdoor apparel in a broad size range, including the often-overlooked plus-sized demographic.
Six products in total received Scandinavian Outdoor Awards for the spring/summer season 2022:
Overall Winner: Sasta / Mella+ Jacket
Sustainability Award: Halti / Reissu W DX 3L Jacket – mono-material jacket entirely (including additional materials like threads and zipper coils, excluding the metal zipper slider) made from polyester, making it ready for a circular recycling process. The main fabric is a PFC-free three-layer polyester laminate with recycled content, which can be recycled in circular style
Hardware Award: Bergans of Norway / Y LightLine Fastpack – a 24 l/360 g backpack for fast and light activities
Footwear Award: Alfa / Stokka Advance GTX – Bluesign-approved ergonomic leisure shoe with a new midsole and outsole combination
Kids Award: Viking / Ask Mid F GTX – tough built and sustainable kid's hiking boot with a share of recycled materials
Technology Award: Cake / Ösa – electric and very versatile commuter bike with off-road capabilities and integrated power station. The bike has a clamp system for bringing all types of outdoor gear on the bike.
Established in 2005, the Scandinavian Outdoor Award aims to support Scandinavian outdoor product and design innovation.