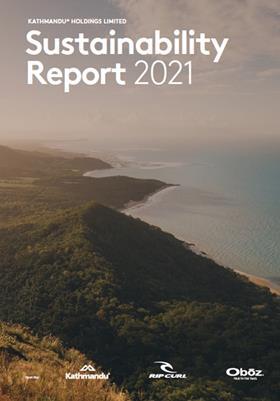 In its 2021 sustainability report, Kathmandu Holdings provides insight into the CSR and sustainability progress of its three brands, Kathmandu, Oboz and Rip Curl. The group undertook its first Environmental, Social and Governance (ESG) materiality assessment this year, conducted by specialized company Sustainability Partners. An ESG materiality assessment is the process of identifying, refining and assessing potential environmental, social and governance issues that are most important to the company and its stakeholders. The assessment yields a condensed list of topics that help the company effectively focus its strategy, targets, actions and reporting. The intention was to align and focus the three brands on sustainability and move further towards B Corp certification across the whole group.
In the year covered by the report, the holding highlights several successes made with their brands:
Rip Curl has completed its carbon footprint assessment, launched a wetsuit take-back program with Terracycle and is sourcing sustainable cotton via the Better Cotton Initiative (BCI).
Kathmandu has reached certified carbon zero standard and has worked on its B Corp certification. The brand has also completed its first modern slavery report and screened its new suppliers for social criteria.
Oboz has planted four million trees since its start and now uses 95 percent environmentally preferred leathers in the range. The brand had also completed its carbon footprint assessment last year.
As part of the group-wide assessment, more than 600 people were interviewed to confirm the strategy set up for all three brands. "This assessment has informed our group-level strategy and helped us set goals, targets and accountabilities," said group CEO Michael Daly.
In May this year, Kathmandu Holdings secured New Zealand's largest syndicated sustainability-linked loan. The roughly €64 million loan is tied to ESG targets. Once the targets are met, the interest rate decreases. Linking loan origination to ESG goals also aligns and motivates the finance team on sustainability.
The full report is ready for download on the Kathmandu website.