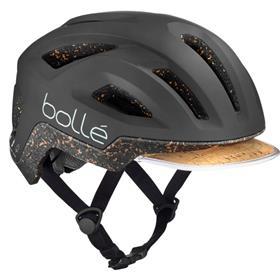 After attracting attention last year with augmented reality for "trying on" the Phantom series on a smartphone and artificial intelligence in the Volt+ lens, Bollé Brands is now presenting its first eco-friendly sunglasses and helmets. The first two products to emerge from the new eco strategy are the Bollé Eco React Mips bike helmet and durable and stylish new plant-based nylon frames used in much of the Serengeti Sport summer 2021 collection.
In the new Eco React Mips helmet, Bollé replaces part of the plastic and petroleum with organic materials to reduce the environmental impact. The PC shell uses 40 percent recycled materials, 20 percent cork EPS, renewable bamboo fibers for the comfort lining and 50 percent renewable cotton fibers in the straps.
For Serengeti, the company is introducing a new eco-nylon frame material that serves as the centerpiece of the new Serengeti Sport Collection. The new frames are made from a polymer called Grilamid BTR, which is a sustainable replacement for TR90, the nylon material commonly used in most frames. The new polymer is derived from castor plants and offers the same properties as TR90 nylon frames in terms of durability, flexibility and strength, according to the manufacturer. In addition, Bollé is now using packaging made from plant-based fibers for Serengeti, and the new vegan leather cases are 100 percent FSC-certified. All new cardboard packaging is made from 40 percent recycled kraft cardboard, which is 100 percent recyclable. Even the lens cloths and bags sold with the eyewear are made from 100 percent recycled PET.
The company also announced that it plans another innovative product launch later this spring but has not yet disclosed any specifics.