Everyone has a sport. We're not talking about a gym membership, but full immersion into a discipline, where we have to have the right clothing, equipment and an app to help with training and motivation. Whether it's working towards a black belt in Taekwondo, competing in triathlons or mastering yoga inversions, sport has become serious.
In addition, there are other driving factors such as the increasing interest in wellness, more female participants in more sports and the acceptance of leisure wear in almost all areas of life. This is pushing growth in the sporting goods market, and it also has a knock-on effect on what we expect from our sports stores. If we're prepared to spend a good amount of our disposable income in this area, we want the brands we chose to offer above and beyond the everyday retail journey.
Many retailers are already pushing the boundaries of the traditional sports store by redesigning sales floors to be customer focused, combining expert advice, trial areas and interaction forums to create communities.
Stores as playgrounds
Nike opened its Paris House of Innovation in June, the third iteration of its concept to "harness the power of digital to best serve consumers."
"The strength of our digital portfolio combined with product innovation and amazing physical spaces, will connect members to the community of sport and to one-of-a-kind experiences, serving them in an incredibly personal way," says Heidi O'Neill, Nike president of consumer and marketplace.
Or, put simply, the concept is more of a venue than a store. There's the Mission Control wall installation that serves as the nerve center of Nike Paris, connecting shoppers to a global community of sport, and the latest activations at the New York and Shanghai stores. In Shanghai, the vast atrium Center Court hosts workshops and digitally-led training session. In New York, a floor dedicated to personalization means shoppers can book one-to-one time with designers to customize their purchases.
Whilst the tech frontage is about showmanship, it's all backed by a suite of app services and digital infrastructure to provide a connected shopping journey.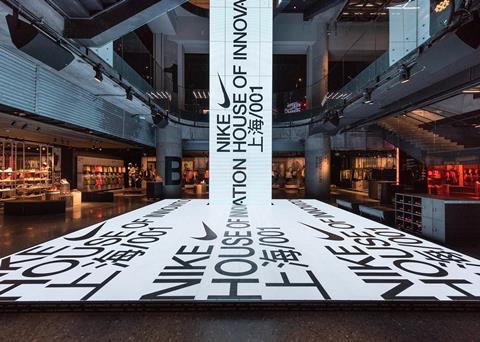 Globetrotter, the German outdoor retail chain, has always tried to push boundaries when it comes to what a store can be. Launched in the late-70s by two survival experts, it was already at the forefront of experiential retail by the 1990s, offering climbing walls and kayaking pools, as well as curating online content for enthusiasts almost since internet shopping has been around. Earlier this year, it even launched a VR Cabin offering city walks, safaris, wreck dives and ancient ruins.
Of course, it doesn't need to be about technology. With size on its side, Decathlon manages to create exciting shop floors with demo areas, and in its revamped Surrey Quays store, there are 70 sports to try out in a range of "mini experiences," from its rooftop multi-sports courts to the aquarium for testing out snorkeling gear, and a virtual golf course and tennis court.
The expert opinion:
Richard Willis, RVP EMEA at commerce platform provider Aptos says looking beyond traditional sales models will help retailers thrive in the post-pandemic climate. "Forward-thinking brands are looking at how to develop emotional connections with customers, engaging with them differently. Through experimenting and investing in innovation and technology, retailers can deliver the experiences that their customers expect – and in-store experience is critical to sales."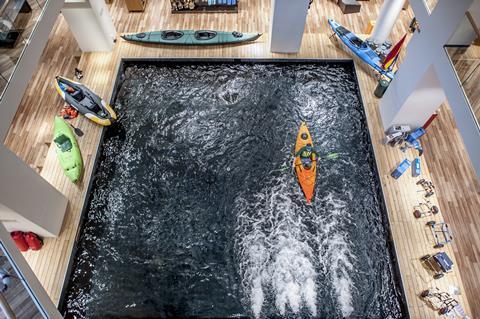 The age of hyper-engagement
Of course, a virtual golf course could be considered just a gimmick, unless you elevate the offer to tap into the idea of product expertise that sees Decathlon employ in-store trainers. It has resident experts in key categories, people employed for their participation in a particular sport.
The retailer's vertical integration means it designs, produces and sells its own products. With complete control to invest in innovation it has established a number of "concept centers" to test equipment in the same real-world conditions as consumers would experience – such as the Decathlon Mountain Store in the French Alps for cycling and snow sports, or the Inesis Golf Park in Lille – and it's the retail staff who act as testers, so they can really get to know their products and fully engage with customers.
The concept of employees as brand ambassadors is not a new one, particularly in physical retailing, but within the sporting goods category, it was often seen as the reserve of specialist: the sort of retailer that promoted a 'tribe' mentality to its customers through a sense of belonging to a community and aspiring to its influencers, physically in store through events, and in online forums and social media participation.
But in the age of Covid – where the innovation adopted to cope with lockdowns has led to an extra layer of convenience for consumers who they are unlikely to let go of this easily now it's out there – stores that had been lagging behind are being forced to rethink what this means.
For brands already connected through peer-to-peer interactions, being able to keep that conversation going when stores are forced to close, or the experience side is curtailed, is an extension of what already exists. For Sweaty Betty, for example, this came in the form of #iamasweatybetty exercise classes, meditations, podcasts, recipes and daily challenges.
But for retailers more reliant on a traditional walk-in model, questions need to be asked about how prepared staff are for ambassadorship. Do they have the presentation and interpersonal skills for virtual and face-to-face consultations? Are they multiskilled in operations and customer service? And ultimately, do they have the knowledge and belief to convey the brand authentically? And this goes beyond just the store, with expectations that they will represent the brand on a more personal level, using social media opportunities to post about it. As trust in influencers wanes, retailers need to hyper-engage their staff if they are going to truly inspire customer loyalty.
The expert opinion:
Retail technology advisor Nikki Baird says employees should be able to add something personal to the store experience. "When they come to work, employees aren't supposed to be this faceless, robotic representation of a brand. They're hired because of their personality, because of an affinity with things that the retailer stands for – so they should be able to demonstrate this both inside and outside the store environment."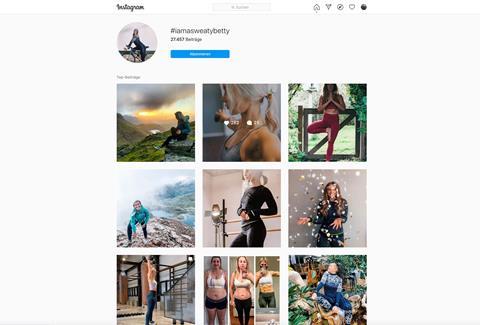 Clubbing together
Harnessing the power of brand fans has become the next major trend, something that the likes of cycling specialist Rapha has always aspired to.
Having established a clubhouse concept for its retail stores, with just 21 globally it wanted to reach customers beyond its limited physical footprint and thus created its paid-for membership club. Tapping into its most engaged customers, members can join bike rides and social events organized by the retailer's ride leaders, which are promoted on a dedicated app, alongside other members-only perks. And it allows riders to connect and create their own events, creating a number of communities that all identify back to the brand.
Lulelemon is currently trialing a fee-based platform in North America in what it calls a "hyper-local grassroots approach to create communities united in pursuit of an active, mindful lifestyle."
One of the main concepts behind it is promoting a sense of identity through symbolism. Participants receive a pair of leggings that carry an emblem specific to the membership. The wearing of the emblem taps into an ancient way to spot people from their own "clan," and offers an easy conversation starter. This is a loyalty program that aims to feel incredibly personal. Lululemon not only wants to know its customers, but it wants them to know each other, literally.
The expert opinion:
Dominic Carelse, from content curating platform Miappi, says the most believable brand advocates are already right under retailers' noses. "Find genuine, organic stories from real people, whose intentions are entirely authentic. Leverage the voice of those who are the people talking about your brand already, unprompted. Passionate, authentic content from authentic people will drive your peer to peer marketing."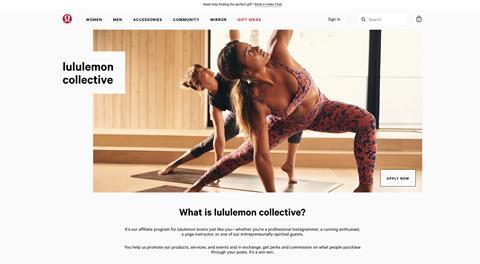 Covid will have a lasting impact on physical retailing and, even with footfall returning, in-store experiential marketing has all but been rendered impossible for the time being. But consumers were starting to feel a certain fatigue towards retail theatre as it became almost commonplace and at times failed to go beyond activations. What the pandemic will do – in fact must do – is guide industry innovators to really start re-imagining what stores have the potential to be.
The expert opinion:
Aptos' Nikki Baird adds: "People today talk about 'being their best selves' and that's where retail has to shift. We've seen it online and we have to take all these things that retail has learned about community engagement in the digital space ­– connecting to people as a brand, a friend, a lifestyle – and bring that into the store."
Cover Photo: Nike House of Innovation in Paris © Nike