At ISPO Munich 2022, The Outdoor Industry Compass spoke with representatives of Taiwanese sporting goods exhibitors about their counterparts in the bicycle industry, an industry of great value in their home country. Their statements confirm what is currently being heard from bike and e-bike manufacturers across Asia: Fear is creeping into the bike business – not only among manufacturers in the Far East, but also among Western bike suppliers and their IBD partners. Find out here why the industry is now feeling a severe pinch in the stomach.
In recent years, booming bicycle and especially e-bike demand could not be nearly met. Covid-related lockdowns and the associated production and transport outages led to dramatic supply bottlenecks. As a result, the shortage of goods during the Covid period coincided with a whopping 20 to 25 percent average growth in sales of bicycles and e-bikes. Purchases and sales were completely out of balance. Given the hunting fever for goods, orders for the 2023 season had to be written as early as late 2020/early 2021. Just in case, both the suppliers and the IBDs preferred to put a whopping order increase of 30 percent or more on top straight away. They never again wanted to be in the situation of not being able to sell anything to consumers eager to buy because of a lack of merchandise. And most importantly, "order cancelation always works."
The all-changing war in Ukraine
Next, the Russian war against Ukraine changed everything globally. It's mostly inflation that's holding back the demand boom. IBDs that finally received their goods scheduled for March 2022 (at least those in the entry and medium price segments) in their stores in September and October 2022 are suddenly left waiting for customers. However, these customers currently prefer to keep their money in their wallets for the next heating bill rather than invest in a bicycle or e-bike (keyword "discretionary purchase"). It's no different for bicycle companies. Full warehouses have already led to the first DTC suppliers like YT Industries and Rose Bikes announcing (in some cases double-digit) price reductions on certain models. Others will certainly follow suit.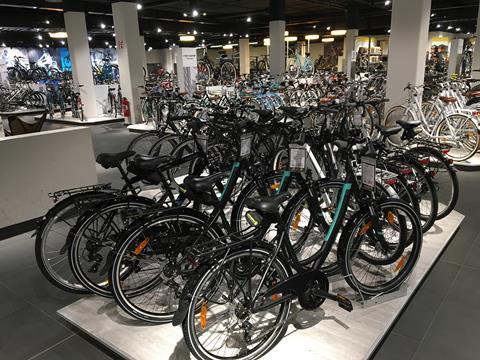 Pre-order boom = production expansion; order cancelations = full warehouses
What's downright scary for suppliers and IBDs is what will happen if late-arriving 2022 bike products don't sell in the coming winter months and new bicycle products start arriving in March (if all goes according to plan). Even a lower volume of incoming bicycle products after order cancelations would cause problems. Industry observers estimate that 30 to 40 percent of suppliers have either postponed or "canceled" their pre-orders for the 2023 model year with their manufacturers in Asia for the next 18 months. Others even speak of a two- to threefold over-order that has to be pushed into the sales market with major delays. All told, there are believed to be some 2 million bicycle and e-bike units that will sooner or later be in the stockpile.
Classic model-year mind trap
This is where, among other things, the classic model-year mindset, which has already broken the back of the ski industry, takes revenge. "We finally have to get away from this!" industry veterans (who, by the way, all do not want to be named in the context of this research) started warning long before the pandemic. During the boom years, of course, this issue was not up for debate. It was all about the product hunt. The fact is that once the new model year arrives, last season's models can only be sold at margin-reducing discounts.
Order-related contracts
The fact that order cancelations can be done "the easy way" has to do with less professional business practices than, say, in the automotive or food industries. According to industry insiders, the only final and (in case of an eventuality) drawn killer argument for "purely order-related contracts without a framework" in the bicycle industry is: "I can't pay and if you deliver the bikes anyway, I'll have to declare bankruptcy". In other words: Ultimate pressure is exerted, which is rather treated in the sense of a "cooperative solution". After all, you want to continue working with your business partners in the future.
This is how it was handled in the past – and how it is still handled today. In the automotive or food industry, on the other hand, it is specified contractually point by point what happens, for example, in the event of a late receipt of goods or a cancelation, and who pays what, where and how much.
Capital-bound e-bikes
The scenario described in this article affects both retailers and the industry (including component manufacturers). But it goes further: Because there are no products being sold at the moment, there is also little cash on hand. Certain liquidity problems may not be a big problem for the industry's big players at first glance – but they can bankrupt medium-sized and smaller companies. In this scenario, the ongoing market concentration on both the supplier and retail side will certainly continue.
In this context, one industry expert points out how much money an industry member will have to raise in the era of high-priced e-bikes (compared to, say, an outdoor retailer selling clothing): "We're in an entirely different league!"
Taiwan's bike makers are already shutting down production
As The Outdoor Industry Compass learned from Taiwanese interviewees at ISPO Munich, many bicycle factories are currently operating below full capacity. After complete bicycle and e-bike manufacturers, in particular, had ramped up production to the hilt with well-filled order books, they are no longer temporarily storing bicycle goods in halls rented at lockdown times for which only one or two parts were still missing. Now they are crammed with "ready-to-go" complete bicycles and e-bikes. These are precisely the products that have fallen victim to order cancelations. What will happen to them is foreseeable: The first bicycle and e-bike manufacturers in neighboring China are already lowering their prices in order to get rid of their goods.
What remains are the higher energy prices triggered by the Ukraine war (which keep raw material prices high) and, of course, the fading of the demand boom suddenly triggered by inflation. On the other hand, cooked-up container prices are back to pre-Covid affordable levels.
The bottom line is that the well-known game of ups and downs continues. But this time, the international bicycle and e-bike industry is going from unprecedented highs triggered by Covid to (un-)lows that cannot yet be fully surveyed.
We can only hope that the downshift triggered by the product surplus does not end in a collective vale of tears for the industry. IBDs should prepare for the hurdles of 2023. With service, service, and more service, they will master them in a stable manner.