In September 2022, Salomon hiking shoes were worn not to scale a peak or cover miles on the trail but to tread the catwalk at New York Fashion Week. The performance brand favorites were worn alongside high fashion pieces from New York designer, Sandy Liang. The presence of technical footwear at one of the most famous fashion events in the world was not a one-off. Puma staged a return to fashion weeks with a show at New York Fashion Week in 2022, and brands such as The North Face and Patagonia now regularly feature on the pages of High Snobiety. This month GQ said of the Arc'teryx AR jackets, "If you're looking for a new go-to, a versatile AR jacket is your best bet."
What's behind the increasing presence of technical apparel in fashion, and is it just a phase? What insight does the popularity of gorpcore give into the potential market for sporting and performance brands? And what's the best way to get your brand into the gorpcore trend? We have the answers.
The overlap between fashion and sportswear is not new, with athleisure wear making up a huge portion of sales in the industry and accounting for large growth witnessed in many brands. The market is particularly dominated by yoga apparel, leggings, and brands such as Under Armour and Lululemon. A 2022 report by Grand View Research, Inc predicted that the global athleisure market size is expected to reach USD 662.56 billion by 2030.
However, athleisure is a market of its own and does not account for the increased presence of performance clothing and footwear at fashion weeks around the world, both on and off the catwalk. This movement, which sees traditionally technical brands and performance items of clothing edging closer to fashion, has been termed "gorpcore."
It is the same style choice that has seen the hugely popular musicians Rihanna (139 million followers on Instagram), Lil Yachty (10.5 million followers on Instagram), and A$AP Rocky (15 million followers on Instagram) wearing Arc'teryx jackets, singer Frank Ocean creating a media storm at the Louis Vuitton show in Paris in an orange puffer jacket from Mammut, and model and media personality Hailey Bieber in a The North Face fleece - a post liked more than 1.6 million times. It is a look embraced by supermodel Bella Hadid many times over in her Salomons.

What is gorpcore?
Said to come from the perennial trail snack, "good ol' raisins and peanuts," the term "gorpcore" was coined by The Cut in 2017. It differs distinctly from athleisure wear, with stylist and creative director Todd Johnson explaining to CNN, "Gorpcore is essentially wearing traditionally functional and utilitarian outdoor wear outside of their intended use." At its core are "practical, element-braving" items, says The Cut. Items like fleeces, puffa jackets, and windbreakers from brands like Patagonia, the North Face, Teva, Columbia, and Birkenstock.
Although defined in 2017, in Nov. 2022, Vogue declared: "Gorpcore is here to stay."
Why is gorpcore so popular?
Covid-19 and the uptake of outdoor activities
More environmentally and socially conscious consumers
Consumers align themselves with the values of a brand
Higher quality items
Higher price tag of gorpcore items
With so many opportunities for physical exercise and entertainment curtailed during the Covid-19 restrictions, simply walking outside became the go-to option for many. This required clothing that could withstand the weather, and thus many have attributed the continued dominance of gorpcore to this.
Another big pull attracting consumers beyond the traditional "outdoor" crowd is the strong and well-publicized CSR stance of brands in the industry: Patagonia's 2022 declaration that "Earth is now our only shareholder"; Arc'teryx's Re:Bird system, which is committed to increasing circularity; or Napapijri's Circular Series of fully recyclable jackets being recognized as Cradle to Cradle Certified Gold, to name but a few.
Wearing items from a brand that aligns with your values becomes a political act and a declaration that you, the wearer, also align with these values.
Read more on how investing in circularity offers big returns for brands in our article: "Investing in circularity: What about the ROI?"
Another big pull of gorpcore is that technical products tend to be of higher quality (longer lasting and more durable against everyday use). Chase Anderson, curator for the Outdoor Recreation Archives stated in an interview with StockX: "A focus on performance, features, and the technical nature of outdoor products, whether they are used for their intended use or not, is translating into a more high-quality product, and thus, more desirable and perceived as luxury,"
Once again then, there is a perceived signaling effect but also of luxury and status from the higher price tags. A phenomenon acknowledged as far back as the early 2010s in Asia and the popularity of The North Face down jackets.
Fashionista has one other explanation for the enduring popularity of gorpcore, five years on from the original coining of the term. Quoting Lorna Hall, director of fashion intelligence at trend forecasting company WGSN, they explain: "In streetwear, the mood and mentality always fit the times, and there's a very definite element emerging of 'harderwear for hard times,' which aligns the aesthetic and performance to the dark geopolitical and economic mood music…The narrative is less about outdoor pursuits and weather functionality, more about survivalism."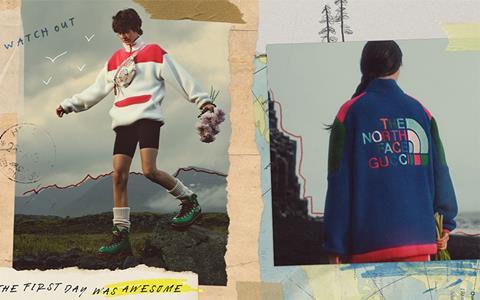 Outdoor brands should embrace the performative aspects of their products
For those embracing gorpcore, it is often not just about the look; it's about performance too. What can this item do? What gives it the "wow" factor?
In the age of social media, outdoor brands and those in technical sporting apparel looking to grow their appeal and capitalize on gorpcore would do well to remember that it is the performance aspects of gorpcore that are adding to the popularity of certain items of clothing.
On TikTok, videos related to "arcteryx shower," in which users record themselves wearing an Arc'teryx jacket whilst standing in the shower to marvel at the waterproof beading properties, have a combined 247.9 million views as of January 2023.
Can this be harnessed on a bigger scale? Shows at fashion weeks in New York, London, Paris and Milan are known for their spectacle. There are already several examples (below) of fashion shows successfully incorporating weather conditions to create an atmosphere on the catwalk. What better way could there be to show the performance capabilities of apparel, footwear and eyewear to a wider audience?
With brands like The North Face, Arc'teryx and others so closely linked to the high fashion world at the moment, there has never been a better time for performance and technical brands to embrace fashion weeks as a way of showcasing their products in a way which could be far more impactful on the consumer and trend setters than conventional trade shows.
Three fashion shows to inspire outdoor brands
Balenciaga's Autumn Winter 2022 "snow globe" themed catwalk featured a worsening blizzard with high winds. The perfect inspiration, perhaps, for Helly Hansen, Mammut, Ortovox and more.
Luxury brand MCM used holograph technology to create climates including rain, wind, and clouds for their Spring/Summer '17 show. Could such special effects be used not just to show off the functionality of apparel but also gear?
High street fashion brand Topman used MTFX special effects company to make it rain on the catwalk at its autumn/winter 2014 show. Could we see Haglöfs or Rab use similar techniques to showcase future collections?