According to an article in SNEWS, the independent U.S. freeride and backcountry ski company 4FRNT has been taken over by a group of private entrepreneurs from former owner Jason Levinthal, who acquired the brand from former founder Matt Sterbenz in 2017. The article was written by Levinthal himself.
The new owners are Charlie Johnson, an entrepreneur from Colorado; Will Armenta, a product management executive at a leading Silicon Valley technology company, an investor and entrepreneur from California; and Ebi Lange, a manager of a commercial mower production facility in southern Germany. Lange has lived and worked most of his adult life in the U.S, where he was involved in the acquisition and turnaround of the Rossignol Group in 2008. According to Levinthal in SNEWS, Johnson, Armenta and Lange are long-time friends and passionate skiers. "They are motivated by the purity and dedication of the 4FRNT brand to freeride skiing, and are eager to continue to elevate the company's founding mission of collaborating with pro athletes to develop the industry's most innovative and award-winning freeride products," he wrote.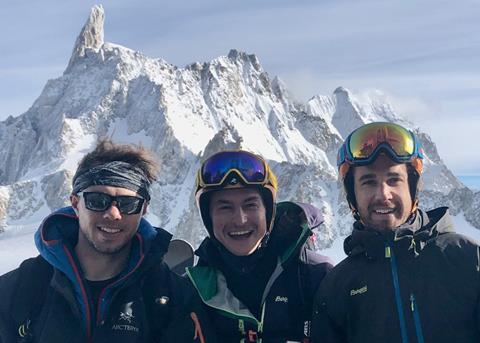 Lange said that the new owners intend to strengthen and permanently consolidate the brand values. "We'll continue working with its current athletes, employees and suppliers, as responsible stewards of the 4FRNT brand, while providing the resources to take it to the next level." Sam Kimmerle, 4FRNT's marketing manager, has been instrumental in leading the brand over the last few years and will take on the role of brand manager. He will continue working with Eric "Hoji" Hjorleifson, Thayne Rich and other athletes involved in product development.
Levinthal also wrote that the new owners were attracted to 4FRNT's superior industry reputation, athlete-driven product development process and lean direct-to-consumer business model in addition to growing consumer interest in backcountry skiing. Levinthal, who has founded and led several ski companies, including Line Skis and Full Tilt Boots, told Powder magazine that 4FRNT has played a big part in modern skiing by bringing new products to market that the larger brands didn't have the vision and guts to try. Levinthal will stay on as a consultant for the coming year. "Now that 4FRNT is financially stable independently and growing as one of the leanest-operating modern ski brands, it's time for it to move on from my hands and I can focus on my brand, J Skis," he told Powder.
Photo: © 4FRNT