Germany's Uvex Sports Group has acquired a majority stake in U.K.-based Hiplok manufacturer, Plus 8 Industries Limited. Details of the purchase price or the exact stake were not communicated. Uvex Sports Group will now add the Hiplok brand to its portfolio alongside the existing Alpina and Uvex brands, "bundling competencies in the field of protective equipment and safety."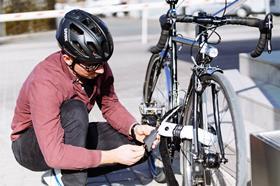 The strategic partnership is designed to enable the British company, which has evolved from a bike lock brand to a bike accessories brand, to continue its strong growth "and further establish itself as one of the innovation leaders in the bike accessories market." To steer the brand into the next phase of its ambitious product development and international growth plans, Hiplok founders and product designers Ben Smith and John Abrahams will continue to be at the helm of their company founded in 2011.
Uvex Sports Group is part of the Fürth-based Uvex Group, which is still privately owned by the Winter and Grau families. The long-established company has a long tradition in personal protection equipment thanks to its innovative range of sports and industrial products.