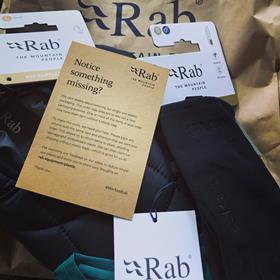 U.K. outdoor brands Rab and Lowe Alpine (owned by Equip Outdoor Technologies Ltd.), together with the European Outdoor Group (EOG), have presented the first results of their polybag recycling project, conducted as part of the EOG's Single Use Plastics (SUP) project. In this test run, Equip removed the bags from its direct-to-consumer sales and recycled them, rather than leaving the responsibility with consumers, which often means polybags end up in residual waste.
In this first trial, a specialist reprocessing partner recycled nearly 350kg of polybags. Equip ensured that minimal printing, tape, or labels were used on its polybags to avoid contaminating recycling systems. In addition, the size of the poly bags was reduced by rolling and folding the packaged products differently.
According to Equip, the quality of the recycled material is high and suitable for trade, with only minimal reduction in quality. This means that this plastic can be easily converted back into polybags and remain in use. Initial estimates from EOG show that, if implemented correctly, this system could capture up to 86 percent of all polybags used in the industry. This could contribute to a significant reduction in CO2 emissions and minimize the use of virgin materials, one of the main objectives of Equip's CSR strategy.