As part of EDM Publication's survey on diversity and inclusion, the first part of which was published on Dec. 23 on the Shoe Intelligence website, we had an email interview with D'Wayne Edwards who was the lead designer of Nike's iconic Air Jordan brand for a decade from 2001, making him one of the most prominent figures in shoe design. But Edwards grew concerned by what he saw as a dearth of black people in senior positions within sporting goods companies. While 13.4 percent of the American population identifies as Black or African American, according to the United States Census Bureau, only about 3 percent of shoe designers are black.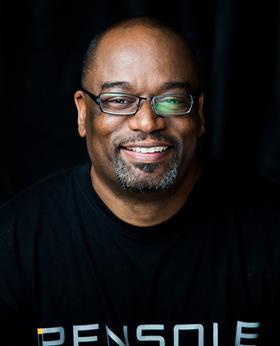 This contrasts with the investments brands are willing to make to sign up prominent black athletes and entertainers. While Edwards did not provide figures on how much brands collectively spend on such deals, there are a series of high-profile shoe contracts. According to Forbes, Nike paid Los Angeles Lakers star LeBron James $32 million in 2019 and Michael Jordan $130 million. National Football League star Odell Beckham Jr receives a total of $26.5 million in endorsements from Nike, EA Sports, Dunkin' Donuts, Head & Shoulders, Foot Locker, Lenovo and Steiner Sports, with Nike alone paying $5.8 million per year, according to athletics website Opendorse.
Determined to address the ethnicity imbalance, in 2010 Edwards set up the Pensole Academy, a Portland-based school specifically for training black designers. The majority of black shoe designers currently working in U.S. companies came through the academy's ranks, Edwards claims.
You set up the Pensole Academy to get more black people into the U.S. shoe industry. How much progress has been made across the industry in recent years? How much still needs to be made?
D'Wayne Edwards (DE): Oh, we have a LOOOONG WAAAY to go. There are roughly 175 black footwear designers in the U.S. footwear industry and 80 percent are Pensole graduates and/or others I mentor. This has been a big part of my career journey and it will always be because for our industry to only have less than 5 percent black footwear designers is a disgrace. Our industry should be shamed considering how much money is spent on marketing to black consumers. And how much money is spent on black athletes and entertainers to endorse their products? And how much money black consumers spend on their products. I am hopeful things will change starting in 2021 with a renewed commitment to black lives and communities by my industry.
Edwards noted that studies indicate that black designers total 3 percent of the total in footwear and overall design.
Why have black people struggled to progress within the footwear industry?
DE: The problem is that we are struggling to get into the industry. The industry does a poor job of communicating to black consumers about what jobs are there, so we do not see ourselves in the industry and we don't try to get in. Once the footwear industry puts only 10 percent of the effort they use to communicate to black consumers to buy products into talking about jobs in the industry, we will see a change.
Now, for those that get in, we struggle even more than those who don't because we have not risen to levels within these companies to impact change. It's a broken cycle that I pray changes starting in 2021.
What are the biggest challenges facing black people within the footwear industry? Is it getting hired or getting promoted – or both?
DE: There are so many, but to answer your question: both. There are not enough of us in the places where they look for talent, which is in college. If we are there, we are in the wrong schools and studying the wrong majors, and therefore we are never seen. As I said before, if they tell us what they are looking for and what the opportunities are, then we will adjust or at least try. When you say getting promoted, you jumped too far ahead. We need to first master the job we are in before that is even an option. On the journey to mastery, we need mentors to guide us and we need to be more proactive in our own personal development to make ourselves undeniable. If we invest in ourselves to be undeniable, even when the company might not, then we win. If we do what we need to do to get to that level and we are denied, then we leave. Don't stay and complain. Leave because that company does not value you.
Is the issue solely for Black Americans or also for other ethnic groups?
DE: This not uniquely our problem. Other ethnic groups face similar issues, but it is more personal to us because the brands clearly are singling us out in their marketing, advertising, endorsers and products. Yet, they don't single us out when it comes to educating us on having a future in their companies, and when we are there we are not singled-out to develop and keep us there.
Are black people underrepresented in all departments? Is this a problem mainly in America or also in other Western economies such as Europe and Australia?
DE: I have no idea about our progress or lack thereof outside of the U.S. In the U.S. I am only keenly aware of design departments. I have seen more diversity on the marketing side of the business, but besides that, it is hard to find us. Wait, the majority of black people work in retail and in the warehouse for ALL of these brands. Retail and warehouse…I will let you digest that!
You once said black people are prevalent in marketing campaigns but are "never the brains behind organizations." How many black people are in management positions in the U.S. footwear industry (in percentage)? If they are underrepresented how can big footwear brands improve the situation?
DE: Not sure of the percentage, and every company is different, but I would guess that it is in the single digits industry-wide. For a company like Nike, it is in the double digits. And they might be the only company in double digits. If a company invested only 10 percent of the amount of energy they put into signing a new athlete, entertainer or getting a kid to buy products, into hiring employees of color in all positions, then change will happen.
What can smaller footwear companies, which tend to have fewer resources, do to increase workforce diversity?
DE: The same as the larger ones. If diversity is just as important to you as making money, your company will be more diverse no matter what size you are.
Are diverse workforces more productive?
DE: Not sure about more "productive," but diversity produces "new" results. You put 10 people from the same race in room #1 with a problem to solve around diversity versus 10 diverse people in room #2 with the same problem to solve, which one do you think will have a better answer to that problem? Diversity equals innovation.
Which companies, in America or overseas, have a better record with employing black people? Which have the most progress to make?
DE: In our industry Nike is the clear leader because of their size and commitment to their athletes, entertainers and consumers, but as well as they are doing, they will admit they have a long way to go. I do not want to single out just one company that is not doing well because the entire industry needs to do better. I will put it this way: if you are a company that markets and advertises to black consumers, you have an obligation to those same black consumers to do more for them than giving them products to buy.
After race, what will be the next big diversity problem for the footwear industry to tackle?
DE: Gender. It goes hand-in-hand with race. And you can say age does too. Diversity is a big word that has been diluted over the years, and all I ask is this: take care of those consumers who helped build your brand. Because just as they helped build it, they can also help tear it down.