The fifth social report released by the German mountain sports specialist Ortovox is entitled "Sustainability Insights," because it is all about "the people who move the company with their beliefs and commitment."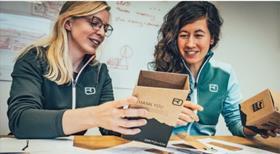 The sporting goods company that is part of the Schwan-Stabilo group says that "especially in times of crisis, sustainable convictions and healthy relationships are the most important foundation for sustainable business." The new social report is therefore dedicated to the company's employees and their achievements. One example is Jasmina Vo-Van and Sonja Lugmaier, both product developers, who have developed a completely new packaging concept that sets new standards in terms of plastic waste avoidance and CO2 reduction.
Another staff member, Brigitte Bräunlein, head of sourcing and production planning, was able to make a significant contribution to mastering the difficult situation of the Covid-19 pandemic in the global Ortovox network (56 percent of the Ortovox production takes place in Europe, 44 percent in Asia) through fast, personal and uncomplicated communication, mostly by video, in order to establish as much proximity as possible.
Based on these and other personal stories, also including Katrin Bauer, Ortovox' CSR manager, who has overall responsiblity for implementing the company's sustainability goals, Sustainability Insights lists all the brand's social developments of the past year.
For the upcoming year, the brand plans to advance the issue of living wages and to maintain the "Leader" status of the Fairwear Foundation as defined as a goal in the brand's ProtACT 2024 sustainability strategy presented in 2019. As part of the Ortovox Wool Promise, the stakeholder dialogue, especially regarding animal welfare, will be intensified. Further goals are set regarding the protection of a rainforest in Tasmania and numerous reduction targets under the aspect of Ortovox' goal to achieve climate neutrality by 2024. In addition, a sustainability report in accordance with the German Sustainability Code (DNK) will be prepared for the first time in early 2021.
The full Sustainability Insights report is available here.