The Sustainable Apparel Coalition (SAC), a global, non-profit, multi-stakeholder alliance for the consumer goods industry, and its technology partner, Higg, have just launched the first phase of a transparency program for the public sharing of data on a product's environmental impact, starting with its material content.
The program's main components are the Higg Index Sustainability Profile and the Higg Index Materials Seal, both of which are based on externally verified environmental impact data from the Higg Materials Sustainability Index (MSI). SAC members Amazon, Boozt, C&A, Calvin Klein, Tommy Hilfiger, Columbia Sportswear, H&M, Helly Hansen, JustWears, Lenzing, Norrøna, Puma, Salomon and Zalando announced they would implement the first phase of the program on a selection of products available in the U.S. and Europe, ranging from apparel to backpacks to accessories.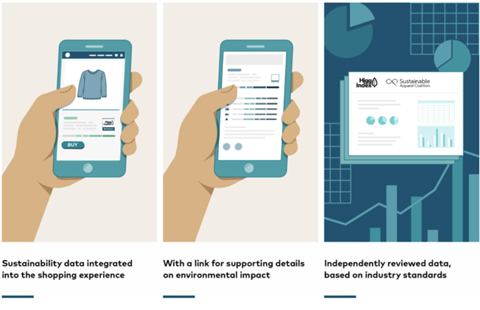 This first phase of the Higg Index Transparency Program will focus on assessing the environmental impact of materials using data from the Higg MSI, which is part of the Higg Index suite of sustainability measurement tools developed by SAC. Expansion is planned over the next two years to include additional data, including manufacturing and corporate responsibility. With the completion of the Higg Index suite and the launch of the first phase of their transparency program, the SAC and Higg aim to help consumers make more informed purchases. For example, Norrøna, among other brands, will embed the Higg Index sustainability profile on its own e-commerce platforms in the U.S. and Europe, with plans to expand to other products later this year.
The SAC currently consists of more than 250 apparel, footwear and textile brands, retailers, suppliers, service providers, trade associations, non-profit organizations, non-governmental organizations and academic institutions working to reduce environmental impact and promote social justice throughout the global value chain. In May 2019, SAC spun off the Higg Index technology platform, which provides tools and services for consumer goods companies.