$24 trillion. That is the amount of wealth currently passing from the baby boomer generation to millennials, who are increasingly wielding their spending power in opposition to capitalism's singular goal of maximizing profits. Instead, they want a higher purpose for the companies that they work for and choose to support, and it must be credible. Self-promoted claims of social accountability, transparency, sustainability and environmental responsibility are met with skepticism. We have been duped before by companies claiming to do good but then hiding the uglier undersides of their business behind savvy public relations. To address this, B Corp certification has emerged as an international, third-party standard that holds companies accountable in the areas of governance, workers, community, environment and customers. Unlike other third-party certifications, the B Corp certification process is standardized across companies and comparable across industries. This yields a level of transparency about a company's true social and environmental impacts that exposes the realities to skeptical consumers.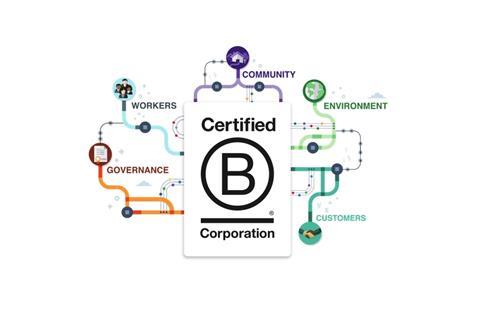 B Impact Assessment
What motivates a company to seek a B Corp certification is largely a values-based endeavor to incorporate a triple bottom line: people, the planet and profits into its ethos. To earn a B Corp certification, the company must first complete a B Impact Assessment and score at least 80 points out of 200, which is cumulative across the five areas mentioned before – governance, workers, community, environment and customers. That is to say, a company that has the best possible environmental policy but treats its workers poorly may struggle to reach 80 points. However, given that the assessment is free via the B Impact Assessment (BIA) website, a low score provides the opportunity for a company to improve. Companies that have voluntarily oriented their goals around the triple bottom line can validate their progress through the BIA.
"Jake (Burton) and Donna (Carpenter) started building a culture of community and sustainability on day one, and it's still deeply woven into our purpose-driven business model today," said Elysa Walk, CBO for Burton. "The B Impact Assessment provides useful information on the best practices that Burton can progress toward on our sustainability journey. Burton also sees great value in joining the B Corp community of purpose-driven brands that are building a more inclusive and sustainable economy."
B Corps in the Outdoor Industry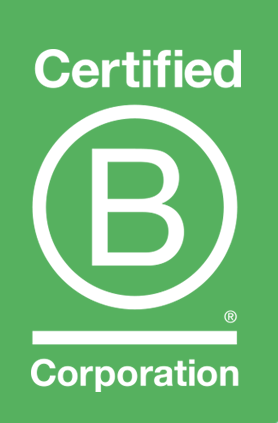 Brands in the outdoor industry have been among the most obvious adopters of B Corp certification, most notably Patagonia, which has been at the vanguard of the movement since 2011. Independent of B Corp though, Patagonia made it its business to "save our home planet," so it is no surprise that Patagonia has the highest impact assessment score (151.4) in the outdoor sector. Few companies have managed to crack 100 points, which speaks to the assessment's rigor. Other scoring systems exist, however, fail to assess a company's true social and environmental impacts. Sympatex, which supplies functional, high-tech materials for clothing and footwear worldwide, could have opted for the Higg Index Brand & Retail Module scoring system, but instead chose B Impact Assessment for its widespread popularity, specifically in the coveted U.S. market. The Higg Index more narrowly focuses on the sustainability and social impacts of brands and retailers largely in the fashion industry.
"As a sustainable supplier we miss no opportunity to benchmark our sustainability performance," said Verena Bierling, spokesperson for Sympatex. "As a proud member of a global network of companies that have redefined business success for themselves, we won the B Corp award 'Best for The World Award 2019' in the 'Environment' category – we are among 10 percent of the best B Corps worldwide. This award evaluates not only a product or service in a multi-stage audit process but the entire impact of the company."
As a B2B supplier, Sympatex is in a unique position to directly influence its brand partners, who can leverage Sympatex's B Corp certification as a selling point for their own products. Conversely, a B Corp certification can lead to new business for Sympatex, since identifying as a member of the B Corps community cuts out a huge part of the discovery process when developing new business relationships.
There are currently more than 3,500 certified B Corps in 70 countries with another 100+ Pending B Corps. It is not just millennials who are rejecting traditional capitalism, but anyone angered by greed and the mortgaging of our collective future for short-term profit. This list of certified B Corps in the outdoor industry helps put into perspective the desire and motivation to prioritize people, the planet and profits.
| Company name | BIA score |
| --- | --- |
| Alpkit (U.K.) D2C multi-activity and bike brand. | 95 |
| Athleta (U.S.) Versatile premium performance apparel designed by women athletes to inspire a community of active, confident women and girls to reach their limitless potential. | 84.3 |
| Baisikeli (DK) A socio-economic company with the purpose to develop the bicycle industry in Africa. | 105 |
| Burton (U.S.) Snowboards, outdoor gear and apparel. | 80.4 |
| Chris King (U.S.) Bicycle headsets, hubs and bottom brackets. | 80.7 |
| Comet Skateboards (U.S.) Skateboard manufacturer committed to the use and development of eco-effective processes and materials. | 91.6 |
| Cotopaxi (U.S.) Outdoor gear company that could make meaningful strides toward reducing global poverty. | 93.6 |
| Enda (KE) An athletic footwear and apparel brand and production company building on and contributing to Kenya's reputation as the world champion of distance running. | 81 |
| Finisterre (U.K.) Best and most sustainable products for the sea. | 80.8 |
| Fishpond (U.S.) Fly fishing manufacturer. | 93.2 |
| Kambukka (BE) Trendy and smart drinking solutions. | 83.1 |
| Kathmandu (NZ) Outdoor equipment and apparel. | 82.2 |
| Klean Kanteen (U.S.) A leader in BPA-free, stainless steel drinkware and food transport. | 101.8 |
| Mayfly Outdoors (U.S.) The parent company of outdoor industry brands who both design and manufacture outdoor sports equipment. | 81.9 |
| NUOC (ES) Reusable glass bottles. | 81.9 |
| Ocean Bottle (U.K.) Reusable bottles. Building a new economy for plastic, one that turns a plastic problem into a force for good. | 86.9 |
| Patagonia (U.S.) Outdoor apparel. | 151.4 |
| Quality Bicycle Products (U.S.) Bicycle brands, parts, accessories, clothing and education. | 82.5 |
| Riz Boardshorts Ltd. (U.K.) Elegantly tailored and ethically sourced swimwear shorts. | 104.4 |
| Starboard (TH) One of the leading windsurf and paddleboard manufacturers in the world. | 84.9 |
| Sympatex (DE) Global supplier of high-tech functional materials for clothing, footwear, accessories, protective workwear, and technical applications. | 89 |
| Veja (FR) Fair trade sneakers made with organic cotton and wild rubber. | 84.2 |
| Vivobarefoot (U.K.) Regenerative footwear and experiences. | 98.8 |