Clean, minimalist styling, first-rate functionality and zero-compromise performance – the new Goldwin flagship store in Munich undoubtedly reflects the core principles behind the Japanese brand that started out with knits and ski clothing. Today, Goldwin is still offering a technical and fashionable ski collection, but the main focus has changed to progressive and highly technical apparel for urban outdoor enjoyment. Located in Schäfflerhof, in Munich's prime downtown shopping area, the new flagship store – Goldwin's fourth one after Tokyo and Harajuku in Japan and San Francisco in the U.S. – is a concept boutique space that provides a lavish setting for all collections – skiwear, outdoor, athletic, lifestyle and C3fit.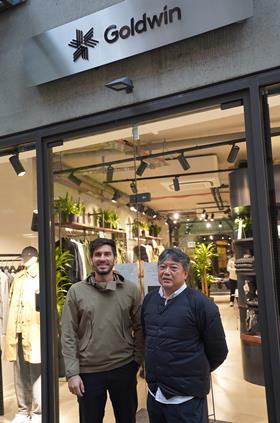 Present at the store opening were the chief executive officer of Goldwin Europe, Takao Watanabe, the general manager global business department of Goldwin Inc, Naoki Kimura, and the store manager of the new Munich store, Henning Riedel, who joined the Japanese brand from Foot Locker.
The Outdoor Industry Compass took the opportunity to talk business with Watanabe and Kimura.
OIC: How did Goldwin cope with Covid-19, and what was the impact on your business?
Watanabe: In Japan, we are very strict with Covid-19 related restrictions. Half of the people are working from home at the moment. We had a lockdown like most countries, but everything is open again. But our online shift was huge. We had a 2-fold increase of our online shop in Japan. The European online shop is also growing. But most of our business here is still wholesale. Our largest European partners are Selfridges in the UK, Transa in Switzerland and Maxi Sport and WP in Italy. Around March/April, we were very worried about physical retail, but with the online shop and when the shops re-opened, we had a quite nice sellout. Some of our online partners were even reordering, especially pants, jackets and headwear.
OIC: Did you pause investments in product development due to the pandemic ?
Watanabe: The heart of our company is development. So we continued to work on new collections, and for most of our lines, we do have new products. In the ski segment, we decided to keep some carry-overs, but not too many.
OIC: You expect the winter to be problematic?
Watanabe: What do we know? Honestly speaking, I was still very optimistic until last week, but that has changed in the last few days. Here in Europe, our business is still 60 percent Ski, so it will be decisive whether the ski resorts are going to be able to open and operate somewhat normally. Regarding Outdoor and Lifestyle, this will not matter too much and I am not very concerned. Remember the summer: despite the lockdown, when the shops were closed and people could not really travel, they still went outdoors in their own neighborhoods. So maybe the winter season won't be bad after all with local traffic. Outdoor and running have had great growth during the pandemic, mainly footwear. No matter what the situation, we can always go to the mountains to hike or run in the city. Skiing is a bit more complicated.
OIC: Goldwin comes from skiing, but it has developed very much into urban outdoor, leisure and lifestyle. How are the segments doing, which ones are the strongest?
Watanabe: Ski, lifestyle, and outdoor are our core segments. But for the last ten years, in Japan, we were also very successful with functional lifestyle apparel. And three years ago, we started with running. In Europe, we are still mostly known for ski apparel. And let's not forget that we have a long experience in many sectors because in Japan, we hold the license not only for The North Face, but also for several other brands across the outdoor, lifestyle, fashion and athletic categories, including Helly Hansen, ellesse and Canterbury. We develop and produce our own collections for these brands in Japan. But of course we cannot sell these products in Europe under those brand names, but we can sell our experience and knowledge from that business under the Goldwin name.
OIC: What is Goldwin's performance geographically?
Watanabe: Japan is certainly Goldwin's biggest market. We have two brand shops there and we are looking for a third. Our second largest market is the U.S., and we also have a store there, in San Francisco. That market is growing well. 15 years ago, our European headquarter was in Milan, and Italy is still our biggest ski apparel market to date. Now our office is in Switzerland, which by now has become our second largest market in Europe, across all categories. U.K. is third. Germany turns out to be very difficult, because the country has many large retailers and it's not easy work to win them over. But Sport Schuster is visiting our Munich brand store tomorrow, so let's see how that will be going. The Munich store is certainly a tool to raise brand awareness in Germany. In Japan, we operate 140 brand shops with all our license brands. We can show customers and retailers who we are, and that works well. We try the same in the U.S. and Germany with our flagship stores.
OIC: Is Goldwin currently growing despite the pandemic?
Watanabe: It's a difficult year for everybody, as we all know. But our business is stable despite Covid-19, and we expect growth in the future.
Kimura: For the financial year ending on March 31, 2020, we had a global turnover of Yen 97.89 billion (€783.8 million). The majority of that came from our The North Face business in Japan. In Japan, we have a total of 20 brands in our portfolio. Our target for Goldwin brand global annual revenue is 10 percent of the whole revenue in the next years. As for the different geographical markets, Japan accounts for 60 percent, mostly because of the The North Face business; Europe and North America are 15 percent each; Asia is 10 percent. The Munich store is a key pillar of our strategy to expand the European business.
OIC: What is Goldwin's e-commerce and direct-to-consumer (DTC) strategy? What is the share of DTC?
Watanabe: We started DTC about three years ago, and it's doing well. In Europe, online and DTC together currently account for maybe 10 to 15 percent of our business.
Kimura: E-commerce in Europe for the Goldwin brand was 5 percent before the pandemic started and 10 percent as of end of September. Globally, the share was 10 percent before and 20 percent after. We expect that within the next 2 or 3 years, these numbers will be significantly higher. Our majority of sales in Europe comes from wholesale, but we are still relatively small in Europe overall.
Watanabe: In Japan, the share is much higher, especially because of our many physical brand shops. We don't have many large physical retailers and retail groups in Japan like you do in Europe, so the situation is totally different. Here, we try to work with the big retail players, that is definitely a priority at the moment. But with Covid-19, the mindset is changing. With the new Munich flagship store, we also launched an online shop that is directly operated from the shop. We even ship from here as we store enough inventory in the basement. Our main warehouse for EU wholesale is in currently in Austria, but we are planning to move it.
OIC: What do you think is the future of trade shows?
Watanabe: A good question. It's not easy to predict. Luckily, our Tokyo team started developing a digital showroom system already before Covid-19 hit (Watanabe pulls out an iPad and browses through the digital showroom). The system is very similar to how the e-commerce websites work, but it is a pure B2B tool. A lot of our lifestyle clients are already using it, but the bigger shops – ski and outdoor – also want to touch and feel the products. In case trade shows are canceled next year, we will have to find a way to physically show the products to those who ask for it. Maybe in order centers like the MOC here in Munich. We will see. For all others, our digital showroom will be a very functional alternative. We knew before the pandemic that we need to offer digital solutions.
OIC: Do you think Ispo Munich will take place in 2021?
Watanabe: I don't know. Who does? It will definitely be smaller. I talked to our Swiss customers, and they definitely want to go. But others do not. For me, as I am in charge of wholesale, Ispo is very important, but maybe it needs a completely different concept. Ispo was also a reason for us opening a flagship store in Munich. Other reasons include the proximity to the Alps and lakes and the high income level in this city.
OIC: What is your focus and strategy with the new flagship store?
Watanabe: Our flagship stores look mostly the same around the world and they carry the same collections. Here in Munich, although the shop is not very large, we can show all our lines and products. The ski products will be on display in November, right now we only show lifestyle and outdoor. Interested retailers are very welcome. Our flagship store is not meant to be a competition; it's a window to come and see who we are. We think it's a great tool to create synergies.
OIC: Thank you, Mr. Watanabe and Mr. Kimura!