In a new study, consulting and analyst firm Oliver Wyman has validated the impact of e-commerce both on the retail industry and the environment. The data is based on an analysis of official statistics, independent retailer surveys conducted in 2020 and a proprietary CO2 impact model (full study here).
In the eight countries surveyed (France, Germany, Italy, the Netherlands, Poland, Spain, Sweden, and the U.K.) there were fewer retail outlets in 2019 than in 2005, but the total store space remained stable as stores grew larger. Wealthy and growing cities increased their overall number of retail jobs and outlets. In countries where retail is more organized, the e-commerce share of retail sales is higher, apparently because established organized retailers have moved faster toward omnichannel retailing. Overall, retail is gaining jobs in net terms, and e-commerce is contributing.
As for the environmental impact of the two sales channels, it turns out that the end-to-end CO2 impact of online shopping is less than half that of brick-and-mortar shopping – which is significantly influenced by very high energy consumption of buildings compared to e-commerce-related warehouses. According to the study, offline shopping results in between 1.5 and 2.9 times more greenhouse gas emissions than online shopping. While e-commerce requires delivery vans to circulate, they reduce car traffic by four to nine times the amount they generate. Land use for e-commerce is lower than for physical retail, when logistics, selling space, and related parking space are included.
Management consulting firm Oliver Wyman with offices in 31 countries is part of New York City-based Marsh McLennan group.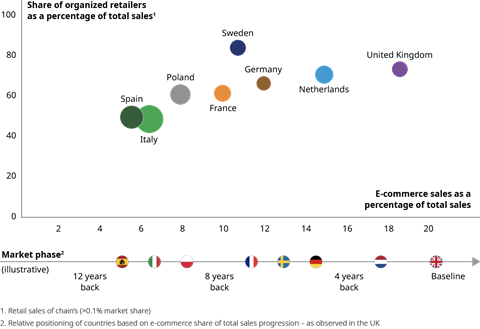 Source: Oliver Wyman
Relationship of organizational level and digitization in retail: UK is strong in e-commerce and associational busines