With Covid-19 and the lockdown in March, pretty much all industries were facing severe challenges. One of the sectors that were hit the hardest right from the beginning was the travel industry. After a while, people were allowed to travel again, but in a very limited manner. However, as the rules are currently becoming stricter again, we have no idea when things will finally return to normal. So how will our vacations look like in the future? In this interview, Rita Hagen from the German tour operator "Hagen Alpin Tours" talks about the situation and developments focusing on one of her company's key activities: Alpine crossings.
Rita, you have been working for over 20 years as a specialized tour operator offering hiking tours, but challenges like the Covid-19 pandemic are not necessarily anything you could have prepared for. What was it like for you?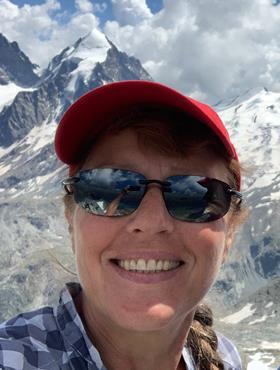 Rita Hagen: For us as a tour operator, every year holds surprises. In 2019, for example, the season started relatively late due to the snowy winter, as many routes were not yet accessible. Mudslides, heavy rain, or snow in summer at 2,500 m are also not uncommon, potentially impairing our services and possibilities. 2020 started relatively normal until the lockdown with all its consequences struck. As experienced operators, this presented us with unprecedented challenges. However, I believe that a significant advantage in our industry is that we always have to overcome unexpected obstacles, which means that we probably sport a different attitude. But this year, we were, of course, accompanied by a considerable amount of uncertainty.
You said that the season started quite normal. How and when did things change?
Until mid-March, everything went as usual. Clients planned their trips and booked them with us. We were even able to win a new shoe partner for the season, the Italian brand Asolo, who equipped a large part of our guides. When all countries suddenly closed down, all business stopped for the time being. Italy and Austria are the most important countries for our tours. In June, the Schengen area's travel restrictions were lifted, and we could restart our Alpine crossings. But I'd say a good 15 percent of our customers had bailed out by then.
People overran the foothills of the Alps during the lockdown. Do you believe that this has changed the outdoor sports and hiking business in the long term? Or was it just a short-term boom that has since subsided?
When you weren't allowed to go anywhere, and the streets were empty, people had time to realize the beauty of our world. Not being able to do anything certainly opened some people's eyes to the luxury we live in. As soon as the first relaxation of regulations came, people were much more aware of the beauty of what was right outside their front door. This is probably why the mountains were overrun. In the meantime, this has changed again, but I think that the mountains have more fans than ever before. More hikers, climbers, trail runners, mountain bikers etc. also means that there will probably be more conflicts because basic rules are not observed or many are not even aware of them. It's time now for politicians to support alpine clubs, regions, etc. to create a certain awareness and sensitivity. Mindfulness and respect for oneself, fellow human beings, and nature are fundamental to any mountain sport. If more people are now enjoying the mountains, it is a must for coexistence to build awareness.
Does that mean that normality has mostly returned to the mountains?
Hagen: Outdoor regions near major cities are still very heavily frequented on weekends. Regarding the Alpine crossings, the start of the season was pretty slow. However, our first groups had a fantastic experience because it allowed us to travel back in time and enjoy the solitude in the mountains in a way that hasn't existed for decades. After people learned that the mountains are somewhat a "safe place," we witnessed more and more guided hiking groups. Except for the country-specific hygiene regulations, the situation is pretty much back to normal in the mountains.
You mentioned earlier that 15 percent of your customers have dropped out. Do the hygiene regulations influence the group sizes? Are you allowed to guide the usual number of guests or fear a decline in business?
There are no changes in the potential group sizes, although there were certainly many groups this summer with fewer participants than usual. A good number of booked trips for 2020 were rescheduled to 2021, meaning our books for next year are already partially filled. Confidence in air travel has significantly suffered under Corona, and I believe that people will still be suspicious in 2021. In any case, we expect that the Alps will be very busy next summer. And even though we had fewer bookings in 2020, the forecasts for next year already look extremely promising.
So from this point of view, the events were positive for mountain tourism?
Yes, and no. We are naturally pleased that more people discovered the beauty and tranquility of the mountains and that this will probably positively affect our future bookings. However, there are good and bad sides to this. Both the inexperienced and the new mountain sports enthusiasts need to learn how to behave in the outdoors. After all, shortly after the start of the post-lockdown boom, garbage, wild camping, parking, campfires, etc. posed big problems. Most people are not even aware of their misbehavior because they simply don't know any better. And that's where something needs to be done to ensure that the blessing does not become a curse.
Do you consider hiking and adventure or active travel to be the future of the industry?
Even though the air travel and long-haul travel industry have suffered much, the majority of Germans will undoubtedly continue to buy airline tickets and go to faraway places once it's entirely safe again. But crossing the Alps or hiking, in general, has many advantages, which are especially crucial in times of a pandemic. You are outside in the fresh air, and groups like ours have no problem keeping safe social distance. All this exceeds the current hygiene standards. And whoever has ever visited a crowded Adriatic beach will love the seclusion in the mountains. You will run into other hikers in the mountain huts, but masks are required just like in the valley, and the max capacities are limited.
How do you imagine future mountain tourism?
We also offer trips to overseas destinations, but I think it would be nice if the focus would be more on local or easily accessible destinations. Nature is one of our greatest assets, and the fewer emissions we cause, the better. There is so much beauty in our immediate vicinity, and if you are honest, a lot of us are more familiar with foreign places than with our own backyard. So I would love to see people enjoy and discover nature in our home regions. At the same time, I hope that everyone gets along smoothly and takes the time to prepare and understand what the outdoors are all about before setting out. Don't leave a trace; respect the others; respect everyone's preferred activity, and so on. Responsibility also includes the right gear, understanding the weather and other natural forces, and so much more. That lady who recently spent two nights in a glacier crevasse in summer clothes in Switzerland is an example of what should never happen if you prepare and know what you are doing. The mountains are just as rough as they look, especially in high alpine areas, and even the foothills do not compare to a walk in your local park. If you have no experience, I recommend you book a guide.
Cover Photo: © Asolo