As previously reported, despite the German, Italian and French governments' efforts to reach a uniform regulatory framework, there is still no joint European roadmap for the opening of ski resorts during the Covid-19 pandemic. In addition to Switzerland, Sweden, and Bulgaria, which refuse to restrict ski lift operations, the Austrian government has now announced that its ski resorts will be allowed to open from Dec. 24. However, restaurants and hotels remain affected by the lockdown regulations, and strict quarantine protection measures are currently in place for inter-European travel. This means that the Austrian ski resorts can, in fact, only be used by locals. Restaurants and hotels in Austria can reopen from Jan. 7 at the earliest, provided that the national lockdown is not extended.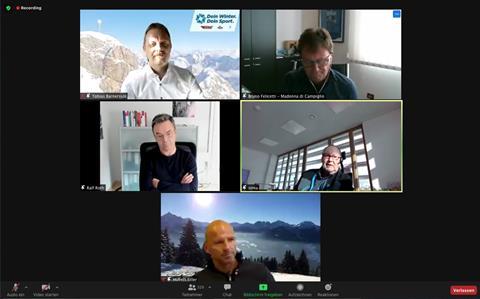 On Dec. 3 – one day after the announcement that the German lockdown will be extended until Jan. 10 – the German "Dein Winter. Dein Sport." (Your winter. Your sport.) initiative held a digital conference, which was attended by up to 400 representatives from winter tourism, ski lift companies, ski and snowboard associations, ski schools and the media. Also, former professional skiers such as Rosi Mittermaier, Christian Neureuther and Hilde Gerg were virtually present. Gerg, a two-time Olympic medalist who today, among other things, also operates holiday apartments in the Alps, said that a general ban was incomprehensible. "There's the sport, the ski vacation, and the party," she distinguished the differences. The sport – the physical exercise – should not be impaired, but one can and must surely do without the party aspect – an easy-to-implement separation. "For us, it's a sad realization that politicians only see the après-ski parties when making their decisions," Wolfgang Pohl, president of the German Ski Instructors Association (DSLV), added. "We care about our sport and want to practice it." The president of the German Ski Association (DSV), Dr. Franz Steinle, also emphasized the importance of winter sports and that physical exercise in the fresh air is essential for health as well as mental balance. In his opinion, safe winter sports are definitely possible with hygiene concepts in place.
The three German snowsports associations DSV, DSLV, and Snowboard Germany have now sent an open letter to the political decision-makers. They plead for responsible winter sports in times of Covid-19. The aim is to ensure that German winter sports are better perceived and actively involved in the political decision-making process. "With around 11 million snow sports enthusiasts, winter sports in Germany is by no means just a marginal group," Pohl said.
Photo: © TVB St. Anton am Arlberg/Patrick Bätz