More than 200 civil society organizations and unions launched a petition and global campaign on March 15 calling for reforms to support garment workers hit hard by the pandemic. The #PayYourWorkers initiative demands that brand manufacturers provide immediate support to workers in their supply chains and make enforceable commitments to work more responsibly.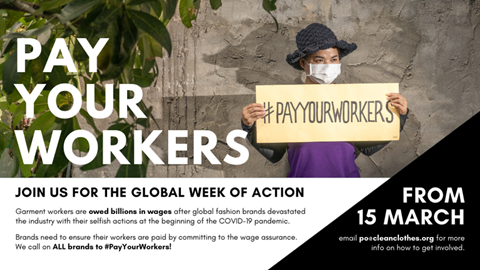 The new campaign calls on apparel and retail companies to pay workers full wages for the duration of the pandemic, negotiate a severance guarantee fund with suppliers, and recognize workers' rights to organize and collectively bargain agreements. Protests and demonstrations by textile workers in India last summer following the sudden closure of a major factory working for H&M were the first indication of what was brewing. As market analyst Juergen Mueller of the blog profashionals notes, the campaign's starting date does not coincidentally coincide with the publication of the industry's annual financial reports: only some of the 2020 sales figures were seriously worse than the previous year, as the figures show. "The global players in our industry all earned significantly less in 2020. But the bottom line is still tidy sums: H&M earned €123 million in the Corona year, Primark €362 million, Adidas €429 million, Inditex €1.5 million. Zalando even doubled its EBIT to €429 million. The TextilWirtschaft share index rose by 6.9 percent last week, well above the DAX average."
The initiators of the #PayYourWorkers campaign are now accusing H&M, Nike and others of using the pandemic to suppress union efforts, get rid of disagreeable employees and let shareholders profit from systemic exploitation of textile workers.
To date, over 2100 posts have already been hashtagged with the campaign, with H&M, Primark and Nike prominently featured.
Photo: © Allan Wadsworth on Unsplash