Speedland, a new trail running shoe company founded by Dave Dombrow and Kevin Fallon in the U.S., is launching its first product, the SL:PDX, the name of which represents the company and its hometown of Portland, Oregon, for pre-order on June 15 and delivery on August 15. At this time, the company will only sell DTC through its website and not offer its product outside the U.S.
The two partners, who have known each other for 20 years and first met when both were working on basketball shoe development at Nike, highlight the materials of their new shoe in particular because "everything about the SL:PDX signifies high-end trail running," which ultimately comes at a price of $375. After Nike, Dombrow and Fallon moved to Puma, with Fallon working in Germany and Dombrow in the U.S. There, despite the distance, they grew closer and then together shifted to Under Armour, where they slowly but surely developed the idea of designing their own trail running shoes.
"Our vision for Speedland is drawn from two decades of experience with the world's largest footwear brands," Dombrow and Fallon write on their website. "Through it all, we learned about what works and what doesn't when it comes to quality footwear."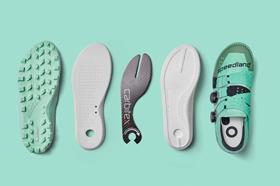 The SL:PDX is made of premium materials, including a Michelin wrap outsole, duo Boa lacing, carbon propulsion plate or a knit upper with Dyneema®. The Michelin sole can be adjusted once by the runner to suit his or her preferred terrain by clipping the lugs, which takes additional weight out of the 290g shoe (size 9). The designers claim their "products are built to last. Call it extended lifetime sustainability. Our equipment is meant to be on your feet for hundreds of miles across any terrain. At the end of its life cycle, it can easily be deconstructed by layer and recycled accordingly." When the shoe reaches the end of its life, the customer can contact the company and receives a prepaid shipping label to return the shoe. Speedland will then take care of the recycling process.