Skylotec is expanding its portfolio to include respiratory protection. The professional and sports climbing and safety gear specialist has invested in five modern production machines and will produce medical face masks and masks for light respiratory protection (FFP masks) beyond the corona pandemic. The German family-owned company has received a grant from the German Ministry of Economics and Energy, which is subsidizing around one third of the investment costs for the construction of a state-of-the-art machine park. With this funding, the federal government wants to support the establishment of innovative production facilities in Germany and Europe.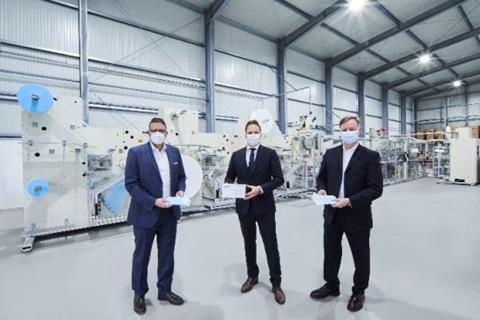 Skylotec had already switched parts of its production last spring to manufacture simple cotton surgical masks on the existing machines. At the same time, the company has been working on a concept to permanently expand its portfolio to include respiratory protection and produces medical face masks and FFP2 masks.
Skylotec is one of the first companies to be funded by the German Federal Ministry of Economics and Energy within its so-called Innovation Program. The aim is to establish long-term production capacities in Germany that are competitive on the global market, with an annual volume of 4.5 billion certified protective masks. A new production hall has already been built at the Skylotec site. The new machines will be used to produce up to 300 million medical face masks according to EN 14683:2019+AC:2019 and up to 50 million FFP2 masks according to EN 149:2001+A1:2009 in the coming year. In addition, a dedicated respiratory protection laboratory has been set up in order to be above the state of the art in the quality assurance of current production.
In order to keep the supply chains as lean as possible, Skylotec has already signed long-term contracts with suppliers from Europe. For example, German-made filter fleece will be processed. This saves time, shipping costs and protects the environment.
Due to the increased demand caused by the corona pandemic, protective equipment is still urgently needed. Especially at the beginning of the pandemic, many PPE articles were out of stock, were offered at excessive prices or of inferior quality or had long delivery times. This also applied to masks, which were almost exclusively imported from abroad.
Photo: © Anastasiia Chepinska on Unsplash