While in many consumer goods sectors, it seems that people still don't think about how our planet suffers from fast, cheap, and unsustainable shopping, some members of the outdoor industry have tried to resist the sell-out madness for quite some time now. In the home country of Black Friday, the U.S. outdoor chain REI was one of the first to close all its stores nationwide that day and instead encouraged buyers and employees to opt for a 52-week action plan with "small steps" to reduce CO2 emissions and make life more energy-efficient. Although stationary trade is not exactly flourishing due to the Covid-19 pandemic, REI is closing all its facilities including stores, distribution centers, call centers, and offices, for the sixth year in a row. The company's employees will continue to be paid but are again advised to #OptOutside on Nov. 27.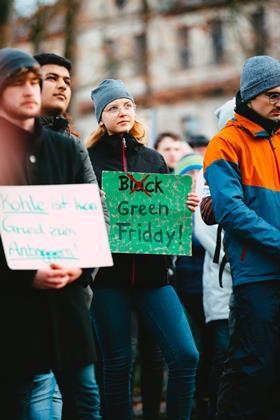 Haglöfs is also closing its stores, thus repeating its Green Friday initiative introduced in 2016. This year, the Swedes are taking the opportunity to promote second-hand purchases as the most responsible choice this Black Friday. While the webstore and all other brand stores are closed and no products are available directly from Haglöfs, the company will keep its Stockholm store open, where consumers can exclusively try and buy from the new Haglöfs Restored second-hand collection. Officially, Haglöfs Restored won't be launched until fall/winter 2021 and is part of a broader program of initiatives to extend Haglöfs equipment's lifespan to be presented to consumers in 2021.
Canadian brand Arc'teryx is going a similar way, with its Arc'teryx Used Gear Program already being in place and running, but currently only in the U.S. and Canada. For the full month of November, Arc'tTeryx will reward North American consumers who trade in their used equipment with a gift card worth 30 percent of an item's original retail value, a 10 percent increase in the regular trade-in value, to shift the focus away from Black Friday mass consumption. On Tuesday, Dec. 1, in addition to the Used Gear Month promotion, Arc'teryx will donate $10 to the non-profit organization Protect our Winters for every item traded in during the previous month.
While the outdoor retail chain Globetrotter will not close its 17 stores in Germany, it calls for the "Greener Week" from Nov. 23 to 27 as a sustainable alternative to Black Friday. The German Hiking Association (DWV) will receive ten percent of the turnover from the sales of "A Greener Choice" products during this period as a donation for its trail and family projects. Globetrotter awards the "A Greener Choice" seal to particularly sustainable products in its range. During Greener Week, the retailer will donate an additional 10 percent for sales of its exclusive Frilufts brand.
Salewa will offer a 20 percent discount on all product categories on its official website as part of its Green Friday program. It sounds like a typical Black Friday campaign, but the South Tyrolean brand will donate 20 percent of its Green Friday turnover to the renovation project of the shepherd's hut in Val di Funes.
Tha British maker of tree tents, Tentsile, is increasing its tree planting activity this holiday season. Each year, the company hosts a Green Friday sale focused on environmentalism over profits. On target to plant 1 million trees, Tentsile has reached 742,000 trees since 2017. To help achieve its goal, the company offers 20 percent off selected products and will plant 100 trees for each tree tent or hammock sold as part of its Green Friday event.
Ebay Classifieds in Germany also saw a need for action and announced "the most meaningful shopping day of the year": the Green Sunday, which this year falls on Nov. 22.
In Ireland, Champion Green, a local consumer support initiative, is trying to shift consumer focus to Irish retailers on Black Friday as the Covid-19 pandemic continues to devastate the Irish economy, with local retailers and businesses bearing the main burden of the restrictions. The initiative is calling on all adults in Ireland to buy online from Irish sites and retailers, asking for those who can afford to spend an additional €50 in November to boost the domestic economy by €180 million. 70 percent of all online sales in Ireland are usually spent abroad.
We are sure that by next week's Black Friday, more companies will have announced counter-actions, and we also expect regional campaigns. Last week, the president of the French senate, Gérar Larcher, suggested the possibility of establishing a "Solidarity Friday" to compete with Black Friday, an idea that is in line with alternatives already created for several years throughout France. We will keep you posted on our website.
Photos: © Markus Spiske on Unsplash