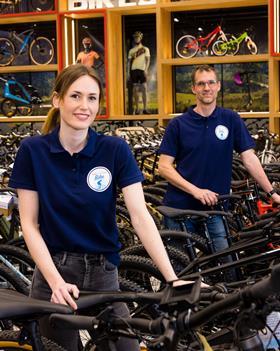 At the end of March, Austrian sporting goods chain Hervis Sports, which belongs to the Spar group, opened a new bike flagship store after transforming a regular multi-category store in the Stadlau district of Vienna. In the local industrial park, Hervis presents everything related to bikes on 2,000 square meters. It sports an open bike fitting station along with an indoor and outdoor presentation of an extensive range of all types of bicycles and e-bikes, bike trailers, cargo bikes, as well as other bike gear and accessories. Hervis offers product consultation and bike service in the store without waiting time via online booking and a digital product information system. While concentrating on bicycles, the new flagship store also offers products for other sports such as tennis, fitness, running, fun sports and outdoor.
On April 1, the retail chain opened another new flagship store, this time with a large outdoor sports world and a special focus on climbing, but also trail running, hiking and bikes. This store, which also measures 2,000 square meters, is located in Innsbruck, Tyrol. Besides personal in-store product advice, the store also offers distanced consultation via telephone or video call after prior reservation. Thanks to the interlinking of the online store with stationary retail, services such as Click & Collect are also available in Innsbruck.
The two store openings fit into a new strategy, outlined by Hervis' management on April 8, of concentrating more on four sports categories – bike, outdoor, running and snow sports – in the future, without ignoring fitness, football or other categories. Similar flagships are planned for running and snow sports. Hervis' smaller stores will also specialize more and more in any of the four major sports. Still, their personnel will be able to order specific items in other categories from a vast in-house catalog online for delivery within two days to the store or the customer's address.
About 25 more stores will be based on this concept. Hervis will also seek to reinforce its claim as "the leading omnichannel sports retailer" in Austria over the next five years. By more than doubling its digital sales to counter-balance the closure of its physical stores in the country for 20 percent of the time last year, due to the coronavirus pandemic, Hervis could limit the decline in its domestic sales at 3 percent.
A 25 percent increase in sales of all kinds of bikes, which was partly induced by the pandemic, also contributed to limit the sales decline in Austria. Its sales of e-bikes rose by 50 percent. Hervis has been cultivating this segment for about ten years. It maintains a special relationship with a leading Austrian bicycle producer, KTM.
Adding its numerous stores in six other countries, Hervis' total sales fell by 7.3 percent to €470 million in 2020. The chain also has a presence in Germany, Hungary, the Czech Republic, Slovenia, Croatia and Romania, with a larger number of stores than in Austria.
More on Hervis and its market positioning on SGI Europe.