German-Austrian e-bike manufacturer Nox Cycles Austria GmbH, which once emerged from Berlin-based Hawk Bike Sales GmbH, is expanding not only from the DACH region into other EU countries but also toward the Americas. While it has already gained a foothold in South America two years ago through an importer in Chile, the brand is now making its debut in North America with importer Nirvana X Group and its subsidiary Aspen MTB. Based in Colorado, Nirvana X Group will exclusively supply U.S. bike retailers with Nox Cycles' e-mountain bikes, which it claims are "handmade in Zillertal."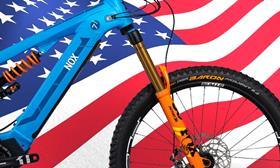 Some may wonder whether the U.S. is necessarily waiting for another bike brand from Europe at the moment. The fact is that the European e-bike boom is gradually spilling over into North America. It is also a fact that Nox Cycles, with its focus on premium e-mountain bikes, sees its opportunity in the rather sporty e-bike market (exception: e-cargo bikes) in the U.S. In contrast to Europe, the e-bike market there is still relatively small (but growing strongly). And Carsten Sommer, Nox Cycles' CEO, believes that it is worthwhile to gain an early foothold in the U.S. e-bike market.
Aspen MTB is a mountain bike school with bike rental and store near Aspen, Colorado. The store evolved from the Aspen Dirtbike School due to high demand. It says it offers tours, classes and gear tailored to customers. Nox Cycles is imported and distributed by Aspen MTB's parent company, Nirvana X Group. In addition to Aspen MTB, the group also includes Aspen Dirtbike School and Aspen Ice Karting.
The CEO of Nirvana X Group and Aspen MTB, Yvette Trincado, believes in the success of Nox Cycles in the U.S. "The quality European manufacture is a perfect fit for our own company's high-end niche focus," she said. In her opinion, the U.S. market, in general, is flooded with China-made goods. This is exactly where she and her team see an opportunity: "U.S. citizens see more and more the value of high-quality e-bikes and are also willing to pay a corresponding price. Nox Cycles' bikes far exceed current quality and safety standards."
A U.S. website has already been launched with www.noxcyclesusa.com.