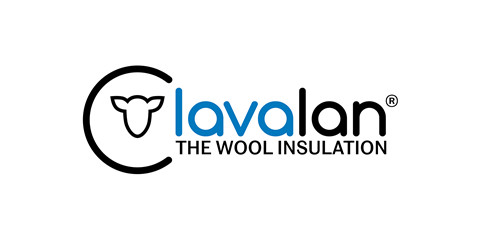 Natural, renewable and highly functional: wool is an age-old yet modern functional material that has been used for thousands of years as a reliable way of protecting people from the cold, wind and weather. Fine merino wool has become an indispensable material in the outdoor industry, especially thanks to its odor-neutralizing properties, and is becoming increasingly popular for T-shirts, underwear, socks and other clothing. Yet wool is not only great for spinning into yarn, but it is also highly suitable for use as an insulating material in jackets, gloves and many other items. How and why – lavalan has the answers and reveals the special features of its sustainable wool wadding.
Wool: high-tech from nature
Why use synthetic fibers when nature has already supplied us with highly functional and complex raw materials? Wool is a natural product with all the advantages of a high-tech material. With its unrivaled breathability, wool creates a pleasant warmth, keeping the body dry and at a constant temperature – and it can adjust to the intensity of the activity level and a wide range of different weather conditions. A further advantage is that wool can absorb as much as 36 percent of its own weight in moisture without feeling wet. The wool fibers are able to stretch and therefore retain their warming properties. As well as these thermoregulating properties, wool can also neutralize unpleasant odors and can therefore be worn for longer without needing to be washed.
It is also hypoallergenic, long-lasting and biodegradable: in the soil, wool rots down within around six months, and in water, too, wool is broken down to the point where it can no longer be detected within seven or eight months. In short: the perfect properties and functions that we need outdoors, especially in the mountains, and a material that nature-conscious outdoor enthusiasts demand today.
lavalan wool insulation: Wool from Europe, made in Germany
lavalan is run by the Bavarian family-owned company Baur Vliesstoffe from Dinkelsbühl. For more than 100 years, they have been using regionally sourced sheep's wool to produce mattresses, home textiles, insulating materials and even materials for sound insulation. In 2008, their knowledge of wool and its fabulous functionality led to the introduction of lavalan – the washable wool insulation whose name is derived from the Latin words "lana" (wool) and "lavare" (to wash).
Animal welfare and short transport routes
The structure and properties of European virgin wool make it ideal for high-quality wadding. And it has many other advantages that are in keeping with the spirit of the times. In Europe, strict quality and animal welfare standards apply, and practices such as mulesing are not permitted. The wool does not need to be flown halfway across the globe; instead, lavalan supports traditional sheepherding methods on mountain pastures and the associated maintenance of the countryside. The transport routes for further processing are also short: sheep farmers deliver their freshly-shorn wool to collection points where the fibers are pressed into bales according to color and quality. Then, the wool is carefully cleaned in traditional wool scouring plants in Belgium and Great Britain. Residues of plant materials and feces are washed out, as is the lanolin, leaving the wool clean, soft and consistent. The wool is then delivered to Baur Vliesstoffe in Germany. At the company's headquarters in Dinkelsbühl, 60 highly experienced employees who are particularly skilled in working with wool are responsible for the production of lavalan.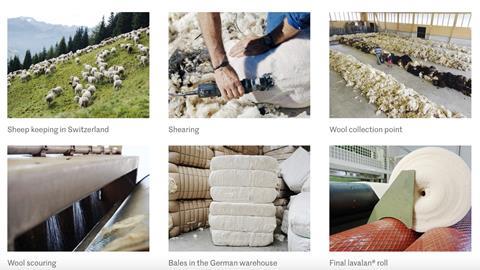 Versatile range of uses: From jackets and helmets to gloves
lavalan wool wadding comes in a wide range of strengths and thicknesses, allowing lavalan to react very precisely to the requirements of their brand customers from the outdoor and clothing sectors, who now number almost 40. In the classic version of lavalan, a corn-based PLA fiber is used to provide stability and robustness. The portfolio has recently been expanded to include lavalan® pure. This fleece consists of 100 percent European virgin wool and is particularly suitable for use in outerwear, thanks to its especially fine structure. While lavalan® plus makes an excellent choice for gloves and lavalan® pro is perfect for ski pants and work clothing.
This means that lavalan can be used as a natural and sustainable alternative for all products that are insulated with synthetic fiber fillings or down. The wool guarantees the best possible comfort level with a wonderful feel-good factor and is the perfect choice for demanding outdoor adventures in both summer and winter. In short: the sheep show us how it's done – people with active lives choose lavalan.
Strong brands put their faith in lavalan
Many brands value the highly functional properties of lavalan and its product benefits, including the traceability of the wool itself. lavalan can be found in products from Alpina, Artilect, Black Diamond, Edelrid, Fjällräven, Grüezi bag, Klättermusen, Maier Sports, ON Running, Tatonka, Triple 2, Vaude, Ziener and many more.
More information on www.lavalan.com.