Arc'teryx has announced that its Alpine Academy will return to Chamonix July 1-4. Additionally, a full digital program will accompany the event, which celebrates its 10th anniversary this year.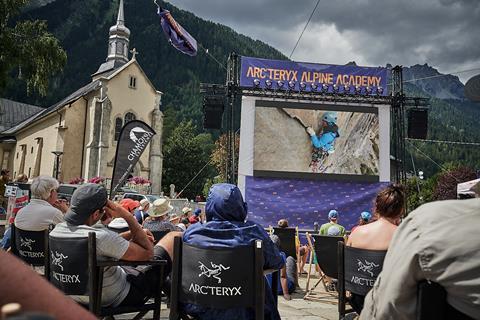 For those who can make it to Chamonix, the downtown Alpine Village will feature movie screenings, DJ sets, product demos and more. During the day, this is the place for registrations and the handout of the demo gear. It will also serve as a meeting place for attendees, locals and elite athletes alike. An Arc'teryx brand experience area will preview upcoming winter gear and the brand's "Outer Peace" initiative. All Covid safety protocols will be followed at the event. A total of six films will be shown in the village during the evenings, including the world premieres of WoGü, 4 Elements and Glacial.
The concurrent digital program will be available free of charge from July 1-11 at chamonix.arcteryxacademy.com. Mountain enthusiasts from all over the world can access all films from this year's academy digitally and attend the panel discussion moderated by mountain guide Isabelle Santoire on "Nature Consumption: How to balance the use and protection of wild spaces?" In addition, Vancouver-based comedian Katie Burrell's "Arc of It" podcast will dive deep into personal stories with guests including climber Nina Caprez and trail runner Martin Kern.
The 10th anniversary of the Academy is celebrated with a photo contest. Through July 7, participants can post pictures of their favorite Chamonix moments on social media by tagging @arcteryxacademy. Prizes include an Alpine Academy goodie bag and an Arc'teryx Atom SL Hoody.