Emerald Holding, the New York-based organizer of Outdoor Retailer (OR) trade shows, among others, has released its first research report reflecting the changing expectations that are influencing and shaping the future of the business-to-business (B2B) events industry. The report will be published annually in the future, Emerald said.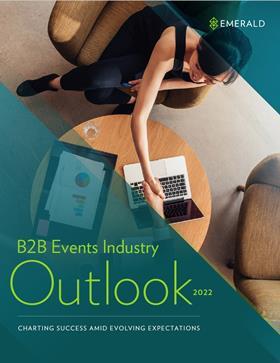 Developed by G3 Communications' content strategy and marketing agency Content4Demand, a company that Emerald acquired in 2019, the "B2B Event Industry Outlook Report 2022, Charting Success Amid Evolving Expectations" surveyed more than 1,000 B2B event planners, vendors/providers and attendees across the U.S. and Canada to understand how events are driving business growth in an industry that is both recovering and evolving. In addition, the report explores how constant connectivity is driving demand for year-round engagement, creating a critical shift in the future B2B event landscape. The result is a detailed overview of the outlook for industry participants during the pandemic economic upheaval in the industry.
Emerald's "B2B Events Industry Outlook Report 2022" highlights that while in-person events remain a linchpin for driving business growth, demand for virtual and digital offerings is growing significantly at the same time. These offerings, once considered complementary and optional, are now seen as central and essential components to enhancing the in-person event experience and driving engagement year-round.
Key findings include:
The number of planned in-person events in North America – as well as attendance at those events – is expected to increase in 2022 compared to 2021, but the expected increases do not fully offset the declines in 2019
The 2022 growth forecast assumes a 50 percent increase in the number of in-person events and attendees in North America compared to 2020
B2B vendors/providers expect revenue pipeline attributable to events (live and digital) to more than offset 2019 declines
B2B event planners, vendors/providers and attendees indicated they will prioritize the quality of contacts and level of engagement beyond the actual events in the future
Attendees and B2B vendors/providers value in-person events but are also looking for a dynamic model that combines the best features of live and digital events and orchestrates them for year-round engagement and commerce
Responses indicate that e-commerce will be a growing component of year-round engagement. All survey groups, including 84 percent of attendee respondents and 67 percent of B2B vendor and planner respondents, want event organizers to enable and facilitate these transactions.
You can download the full report here.