The European Outdoor Group (EOG), in partnership with Messe München, invites you to a special webinar about this year's OutDoor by ISPO: Global Summit Edition on Thursday, July 22 at 12:00 CET. The webinar is open to everyone and provides all stakeholders throughout the outdoor value chain with a chance to learn more about the trade show event scheduled for Oct. 5-7, 2021, and an opportunity to help shape it and future industry gatherings.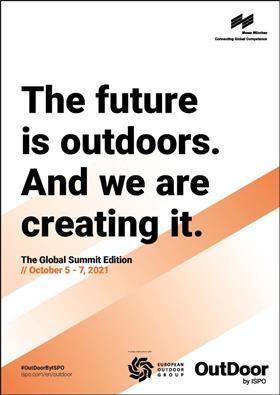 During the webinar, the team behind the event will share the latest details about the format and the content of OutDoor by ISPO: Global Summit Edition. Any common concerns or questions are to be addressed, the organizers said. "The 2021 event will look, feel, and sound completely different from previous shows, so we want to present the areas that we are most excited about," EOG said in its announcement for the webinar. "With normal show expectations lifted, we can implement and trial some of our most ambitious plans." EOG and Messe München aim at facilitating a conference that allows the industry to tackle the topics that affect the future direction and prosperity of the entire trade.
To join the webinar on July 22, please register at zoom.us.