More than a week ago, the Outdoor Retailer Summer (ORS) wrapped up in Denver, Colorado. Due to Covid-19, the show could not take place in its usual slot, making it too late in the year for many companies and retailers. Still, the show was an important event, as it was one of the first opportunities for the outdoor industry to physically meet again after a year and a half. Shortly before ORS, The Big Gear Show (BGS) had already taken place in Park City, Utah, but the difference was that ORS was actually set up in the exhibition halls of Denver's Colorado Convention Center, while the BGS was an open-air trade event.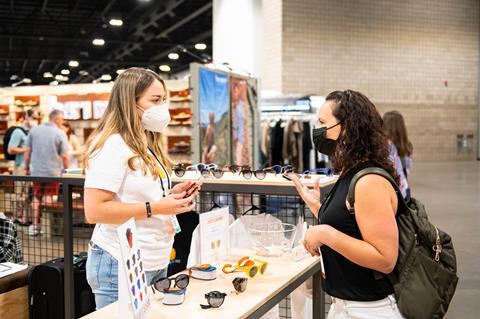 Reactions to ORS were mixed. Even before the event, it was clear that major players would not be exhibiting at all. Due to the timing, apparel brands, in particular, were mostly absent and consequently, there were also not many sourcing companies attending. Because of rising Delta variant cases, one of the big players, footwear brand Keen, had canceled its participation on short notice, but this did not make much difference to those who wanted to visit the show in any case. Sasha Dietschi Cooper of outdoor brand Artilect said he found that despite the lack of big brands, independent outdoor brands were well represented, especially in the footwear, accessories and gear categories.
ORS 2021 was certainly not an order show but rather the long-missed opportunity to see each other again in person and incidentally also discover one or the other interesting products. Accordingly, the winners of the show were mainly those brands that had booked a booth despite the pandemic and the timing. And a not insignificant part of those were smaller brands, which were able to enjoy placement in the main hall – in normal times completely booked by the big players, forcing the "smaller ones" to less prominent areas at OR (and most other shows around the world).
"Retail attendance was higher than expected, and everyone was eager to make new contacts, share ideas and network – in person!", Dietschi Cooper of Artilect said after the show. He was especially happy about the energy and attendance at after-hours and offsite events, which included the brand's own Artilect/Global Sales Guys/Echoes PR party. Here, too, it became clear how much people had missed the face-to-face meetings and socializing.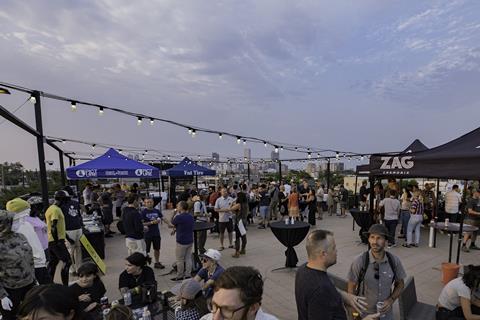 The organizer of ORS, Emerald Holding, could not yet name any visitor numbers. At any rate, the number of exhibitors was 400, well below that of the last pre-pandemic summer event in 2019 (1,400). However, this was no surprise. The fact that some visitors complained about the low number of exhibitors and, in some cases, their relevance, is perhaps more attributable to ignorance or unworldliness. After all, we are still in the midst of the pandemic, and we are already late in the season. Those who came to Denver as realists at this late date were pleased by the good energy and high exhibitor value for accessories brands and their many buyers in the aisles. Negative for some visitors was that there were hardly any Covid rules on site. The wearing of masks seemed rather voluntary and test or vaccination proofs were hardly checked anywhere.
Getting together, meeting in person. That was the common denominator. Marisa Nicholson, Outdoor Retailer senior vice president and show director, also summed it up along these lines: "It was incredible to be back together again and you could feel the energy on the show floor. Our community had not gathered in-person since January 2020, so many were eager to return to the face-to-face business and networking that helps our industry and outdoor business grow." She also said that many exhibitors reported meeting new buyers and making more connections, and retailers were glad to find a variety of new products and brands. "We knew this show would be different as we're all in a recovery phase and still navigating the impacts of the pandemic. For those able to be in Denver, it was three days of productive and meaningful conversations. And, we look forward to welcoming more of the community back next year."
For Rick Olson, CEO of Kompass Solutions, there were two more challenges for companies to attend OR besides Covid and timing: Budgets and inventory. "Companies needed to make fiscal decisions well in advance of commitment timing, and many companies simply didn't have enough inventory to take care of existing demands," he said. "I still found the show to be active and interesting with the middle to small brands receiving more attention because of the lack of dominant big brands. Everyone that was at the show I spoke with was excited to be having in-person conversations and connections with other industry players."
All in all, it became clear during and after ORS 21 that the outdoor business is not complete without connecting in person. Still, the question remains as to where trade show events are headed – with or without Covid. "Something has to fundamentally change about trade shows," said Trent Bush, founder and co-CEO of Artilect. "At ORS 21, orders for S22 were already finalized, so as we all know, the timing made the event much more of a marketing exercise than a sales-one." Covid has already forced brands to find new creative solutions for buying and selling, so will they be willing to spend large budgets on trade show presences after Covid? "I am very confident in the need for the personal connections and all of the positive things that happen at trade shows, but I remain convinced that the smaller, more timely regional shows will become more important, and the big, later tradeshows need to be somehow re-focused to be meaningful," Bush said. Kompass Solutions' Rick Olson would like to wait and see how the winter edition of OR will be. "I would look to the winter show attendance as a trend indicator. I would still expect it to be smaller than 'normal' but if it grows that will show the appetite to continue. If it remains as small, it will be a bad sign for the future of Outdoor Retailer. The outdoor culture remains a 'we' and not a 'me'."
ORS 21 could be a barometer for the upcoming OutDoor by ISPO this October because Covid and timing are also decisive for the size and program of the show in Munich. Accordingly, the merger with the European Outdoor Summit (EOS) can be seen as a brilliant move by EOG, because it turns the postponed trade show in the midst of the pandemic into a trade conference with the add-on of a small(er) product exhibition. Nevertheless, OutDoor by ISPO will also show whether the industry celebrates a reunion or ignores the long-missed offering. And just like in Denver, the winter event, ISPO Munich in January 2022, will be the real test.
In Denver, by the way, there is currently another cause for concern: Outdoor Retailer's contract with the city expires after the summer 2022 show. Alternative venues could be Anaheim, Las Vegas, Orlando or Salt Lake City. OR's parent company, Emerald Holding, is already in the process of conducting surveys with all parties involved to find out what the future holds.