Two very successful fabric fairs have just presented the trends for winter 24 to the sports and functional apparel industry. From Oct. 26 to 27, the Functional Fabric Fair powered by Performance Days took place in Portland, Oregon (1,200 visitors/ 185 exhibitors), followed by the Performance Days at the MOC in Munich (2,433 visitors/ 280 exhibitors) one week later (Nov. 3 to 4). Both shows within "The Loop" presented the second round of "The Journey to Carbon-Neutrality" focus, this time with the theme: "Time to Score."
The Focus Topics fabrics displayed CO2 values, most of which also their Higg values. The goal for the last round of this theme in spring 23 will be that all substances in the forum will exhibit both CO2 and Higg values. "We wish to enable our visitors to make the best decision in terms of material selection, but also in terms of CO2 neutrality and ultimately in terms of textile recyclability," said Marco Weichert, CEO of Performance Days.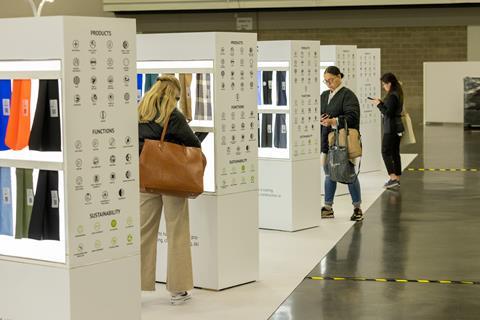 The most significant developments were identified in three subject areas:
GARMENT / TEXTILE WASTE – We can finally see the first fabric suppliers offering recycled polyester from garment waste. One provides a technology that chemically decomposes polyester fibers into raw material. The same is the case with CRZ recycled polyester yarn. Interestingly, CRZ saves energy and reduces CO2 emissions, but the fabric quality is the same as new polyester. Another factory that offers recycled PES for garments is Jiaren.
CARBON CAPTURE YARN – Carbon capture yarn is slowly leaving the pilot status. With LanzaTech, this product continues to evolve. The carbon recycling technology company converts greenhouse gas into ethanol. Then, the ethanol is converted to mono-ethylene glycol, a chemical normally made from fossil fuels. Finally, the mono-ethylene glycol is converted into a polyester called Bio3 PET Filament. CCU yarn from Aramco, which Everest uses, also leads to some new developments. We were able to see some nice fabric developments this time.
RECYCLED CAR TIRE NYLON – Recycled car tire nylon is now available from many fabric suppliers and for various categories of functional textiles. The polyamide yarn is obtained from the chemical recycling of car tires (pyrolysis/ BASF and Fulgar) at the end of their useful life. In addition to the low environmental impact of the yarn, other raw materials are also obtained that can be used for various applications without generating waste.
The newest interesting developments were:
The use of sustainable chemical fibers such as PLA is fascinating. PLA is mostly made from grain (corn, sugar cane or beet). Work is also currently underway to produce biopolymers from vegetal waste (biomass) in the future, and work is also underway to produce PLA from methane and CO2.
Another exciting innovation is recycled nylon with titanium. Titanium is exceptionally lightweight, anti-magnetic and incredibly skin-friendly.
The fabric shows offer visitors and exhibitors the opportunity to keep up with the latest trends and developments. One is the Performance Forum, which now features some 20 percent downloadable 3D files from Vizoo, and the other is "The Stage," with lectures, panels and discussions led by Charles Ross that provide information on current and hot topics in the textile industry. All of the events can be reviewed online on the websites of both events.
The high caliber of exhibitors, many of them from Europe and the U.S., but also Asia, especially Taiwan, offers companies an optimal sourcing platform.
The next dates are Performance Days in Munich on March 15-16, 2023 and Functional Fabric Fair powered by Performance Days in Portland on April 4-5, 2023, Functional Textiles Shanghai by Performance Days in Shanghai on April 10-11, 2023 and Functional Fabric Fair powered by Performance Days in New York on July 18-19, 2023.