Can sports "performance & skincare" be the lifesaver for the corona-starved sports industry?
New category feeding a hungry industry?
Can sports "performance & skincare" be the lifesaver for the corona-starved sports industry?
Benchmarking with what cosmetics mean to the fashion industry is probably a highly appetizing thought for most retailers after two seasons of corona lockdowns. A new category enhancing performance and recovery can be the new candy section next to their cash register counters of sports shops combining premium brands with a high margin category such as a performance skincare section.
Moisture management on your skin
Gore-tex revolutionized the industry by taking moisture management into fabrics. Upsalite® is the world's only porous magnesium carbonate, a revolutionary ingredient in moisture management that takes it a level further and onto your skin. Dubbed the "impossible material," it was finally invented at Uppsala University in Sweden in 2012. Previous scientists had given up hope of ever making it after almost a century of trying.
Moisture management can be the differentiating factor that enhances an athlete's performance, outperforms the competition, or simply elevates the user experience overall. Keeping dry is not only about staying protected from the weather elements. Ask any climber, gymnast, or weightlifter what the value is of keeping hands and feet dry and not too loose the grip. Ask any pro runner, cyclist, triathlete, or hiker: keeping dry is about preventing blisters and chafing and lasting longer.
Upsalite® for sports
Hydromagnesite is a form of magnesium carbonate mineral also known as magnesia/-um or commonly known as chalk. To athletes, chalk is a well-recognized ingredient or accessory to manage moisture and enhance grip. In the microscope, hydromagnesite appears as flaky crystals, which provide grip when the flakes slip and grip each other.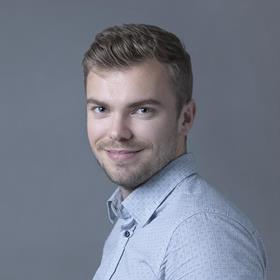 Alexander Grahn, Product Development Manager at Disruptive Materials, says: "Upsalite® is a patented, amorphous, extremely porous magnesium carbonate material with the highest surface area reported. Every gram has an 800 sqm surface area, equal to two tennis courts and made up of millions of pores. The pores are what makes it a unique super absorbent, with 10 times more moisture capacity than regular magnesium carbonate."
"It's not only desirable for enhanced grip, but also for moisture management in formulations for products that prevent chafing and blisters when biking, running, and hiking, etc."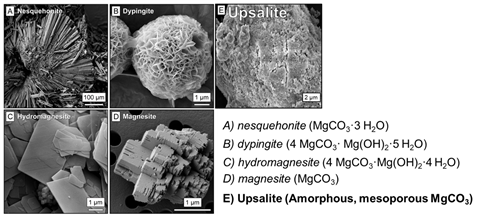 Bringing sports business from slow into fast-moving consumer goods
Alexander continues: "A lot of companies don't get into skin products because they don't know about the regulations for cosmetics. But we can open up this segment. We are the missing link; we come in and assist in the whole process. We guide companies throughout the research, development, product management and regulatory all the way to finished, launched product."
Disruptive Materials offers a key to category extension opportunities for brands ready to expand into fast consumer goods business with a "turnkey solution" for the high margin business of sports functional FMCG and skincare.
Disruptive Materials complements existing product portfolios with not just accessory but "necessity" products that are often bought. The re-purchase ratio for a new jacket or running shoe is counted in years, whereas skincare products are repurchased within weeks or months.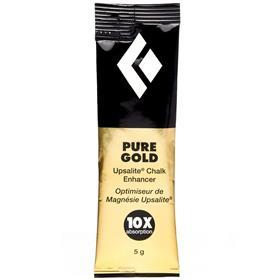 ISPO Gold Award-winning market launch
Together with launch partner Black Diamond, the first Upsalite® product, "Pure Gold" climbing chalk, won the ISPO gold award when launched in 2018, tested not just under lab conditions but also in the field by world-class climbers such as Alex Honnold.
Product pipeline, grip sports
Disruptive Materials pipeline of innovative products is now full flow with more products for grip sports besides climbing, such as weightlifting, gymnastics, throwing sports, racket sports, team sports (i.e., basketball, American football, rugby, handball). By applying Upsalite® in high alcohol content liquid chalk, the moisture management and anti-viral properties make both grip and gym environments safer. Eleiko, a world leader in fitness equipment and weights, is the next one out, just launching their own Eleiko branded Liquid Chalk with Upsalite® by Disruptive Materials, at the CSCCa Conference May 5-7 in Fort Worth, Texas.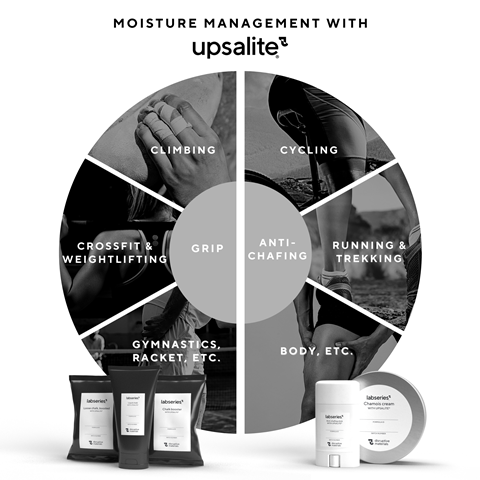 Anti-chafing for running, cycling and hiking
There are times when friction is an undesired side-effect of athletics or exercise. Excessive friction can cause chafing and damage to your hands, feet, underarms or inner thighs, for example. To minimize negative friction and thus optimize the experience, a series of sticks, sprays and creams have been developed utilizing the unique qualities of Upsalite.
"Anti-chafing relies on moisture transport away from the skin, so also in this area, Upsalite® is a real game-changer, as so much of product development in this area has been based on moisture-managing fabric, not skincare, so we are really bringing something outside the box," Alexander says.
From patented innovation powder to ingredient brand power
Partners also gain access to Disruptive Materials' support program with staff training and sales and promotional support. This, along with the Upsalite product boost, is all part of the ingredient brand support strategy for market success.
Sustainability part of the success story
Upsalite® has environmental credentials to offer brands as a vegan-certified product that uses only natural ingredients and no water in the production of the raw material. 
"With Black Diamond, we developed it into liquid chalk that stays on the skin better –  very beneficial as breathing in chalk dust in the air is a real problem within indoor sports, and outdoors it prevents residue being deposited in the natural environment."