The plain "Buy now"-button seems to be a thing of the past. Online shopping is reducing friction, getting more intuitive, more fluid – and more social. "Social commerce" – or "social shopping" – is the fastest-growing distribution channel worldwide. Shoppable posts and stories allow brands and users to tag specific products wherever they are within their Instagram and Snapchat posts or stories. Having moved beyond simple sponsored posts and linked content, modern social shopping provides a seamless e-commerce experience within the platform by leveraging low-threshold call-to-action steps to reach the majority of younger consumers. The viewer-friendly content makes purchasing an experience where the shoppers can interact with their own contacts (who can get involved in a buying process similar to what happens at a brick-and-mortar store). Users share experiences, receive product feedback, receive suggestions and stay up to date with social trends. In contrast to those modern solutions, traditional e-commerce sites appear like dull miniature versions of desktop websites.
According to Business Insider, social commerce is expected to account for 7.8 percent of all e-commerce sales in the U.S. by 2024. A survey from Statista revealed that 48 percent of all Americans aged 18-34 have already made a purchase through social media. No specific social shopping figures have yet been identified for Europe.
Western platforms that include social shopping features are Facebook, Pinterest, Snapchat and Instagram. Facebook, the giant (but aging) social media app, is constantly working on improvements to brighten up its sales and shopping options.
However, none of the Western platforms have yet enjoyed the success seen by their competitors in Asia. Behind this is the popularity of the apps that offer social commerce shopping in China. The three big players in this gigantic market (and abroad) are:
XiaoHongShu (also known as "Red") with 300 million users in 2019 in China and, according to specialized consultant Neal Schaffer, "Instagram, Pinterest and Amazon in one." In 2019, more than 86 percent of Xiaohongshu users were female, while 83.7 percent were under 35. A visit to the site has become an essential step for many Chinese consumers' pre-purchase journey. In early June, the platform's account on the social media platform Weibo was temporarily suspended after a post appeared that referred to the anniversary of the 1989 Tiananmen Square massacre.
Pinduoduo went live in 2015 and has seen the fastest growth for any e-commerce in China. As of May 2019, the platform has nearly 300 million users, according to its Q1 financial results. Pinduoduo has been so successful due to its social commerce features that encourage sharing posts or products, posting reviews, and just opening the app in exchange for discounts and free gifts. Pinduoduo has also launched their own WeChat mini-programs in the hope of further tapping into the WeChat user base.
WeChat was launched in 2011 as Weixin (Mandarin for "micro-message") and had over 1,2 billion users in Q4 of 2020. For 2021, the estimated gross merchandise value of WeChat e-commerce in China is roughly €962 million, according to Statista. As the name suggests, it originally functioned as a simple messenger app, with over one million mini-programs hosted on the app today. WeChat was developed by and belongs to the Chinese tech behemoth Tencent Holdings, one of the most valuable companies in the world. The company offers a wide range of Internet and mobile communications solutions besides WeChat, including the instant messaging service QQ, the online portal QQ.com and a gaming platform. And Tencent is growing steadily. In Q1 of fiscal 2021, its revenue and profit increased significantly, up 25 percent year-on-year to 135.3 billion yuan renminbi (€17.4bn-$21.1bn). The company generated an operating income of RMB 56.27 billion (€7.3bn-$8.8bn) in the same period, up 51 percent year-on-year. Its market capitalization was reportedly over $500 billion in mid-2020.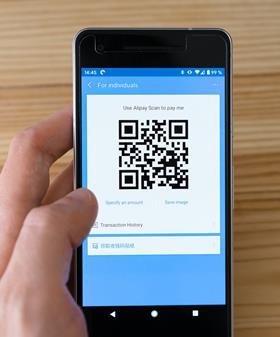 Tencent's ambitions lay beyond just China – hence the rebrand to the more internationally-friendly name "WeChat." Several new languages were added – mostly focusing on Southeast Asia, where a smartphone very often is the only device for social interaction and e-shopping. By now, WeChat is the fifth most-used social app in the world, according to We Are Social's Digital Global Statshot Report. In markets where Facebook and Twitter are active, users can sync their contacts with WeChat to encourage uptake. In China, WeChat is by far the dominant player – even though there is public speculation about the extent to which the Chinese government controls the content and the independence of the app is debatable. This does not seem to be the case for e-commerce: The app saw 50 million monthly active merchants on WeChat Pay in Q4 2019 already. The integration with the app's own paying system makes the purchase process easier and faster, as there is no need to log in between different platforms to complete the payment.
Social media shooting star TikTok, owned by ByteDance Ltd., is moving aggressively into the e-commerce arena as well, building on its broad global fan base. A test of in-app sales is currently underway in Europe, visible only to select users. These tests are seen as a precursor to a broader launch of a global e-commerce service, and it remains unknown when the company will initiate it formally.
The sales tools that are increasingly successfully used for social shopping are so-called "mini programs," operating like a separate mobile app, except that they function within another larger app. According to China Internet Watch, the number of mini programs used per person increased by 25 percent. The average transaction value per user grew by 67 percent, and the annual transaction volume more than doubled in 2020. By 2021, WeChat alone reaches over a million mini programs (half the size of the Apple Store). China's largest retailers are already on WeChat, and companies like JD, Alibaba or Taobao have a mini program version of their e-commerce platforms.
Data from the annual CAICT (China Academy of Information and Communications Technology) WeChat report show that around two-thirds of users believe that mini programs are more convenient than traditional apps and could take their place in the long run. The big advantage of the small implements: they are easy to create and take very little data volume (2 MB max.). Even before the Covid-19 pandemic accelerated the online shopping development, luxury brands like Burberry, Dior and Gucci used mini programs on WeChat to push sales for the Chinese version to Valentine's Day. Streetwear brand Off-White used the app for an exclusive product drop in December 2020. Overall, nearly a third of all mini programs are said to be related to clothes and shoes.
Not only for brands, but also for brick-and-mortar retailers, social shopping offers considerable chances to sell, promote and connect with their end consumers. Social media apps and plug-ins are not only an option for advertising and self-promotion, but serve as a new sales channel that seamlessly integrates into the sales mix.