Production in Myanmar has almost never been easy due to political circumstances. After the country experienced a boom in textile manufacturing with the beginning of the democratic process in 2012, the situation has worsened since the military coup on February 1 of this year to such an extent that a civil war is raging in at least parts of the country. The Fair Wear Foundation is trying to stay on top of things, sharing information with outdoor brands manufacturing in Myanmar and helping companies in their ethical sourcing decisions. The Foundation has urged manufacturers not to pull orders and to ensure that workers are paid, which wasn't always easy: "The payment of wages required some preparatory work from the partners, as the ATMs in the country were not working properly. As a result, they had to pay workers in cash for a while," reports Melanie Kuntnawitz, Jack Wolfskin's head of vendor control.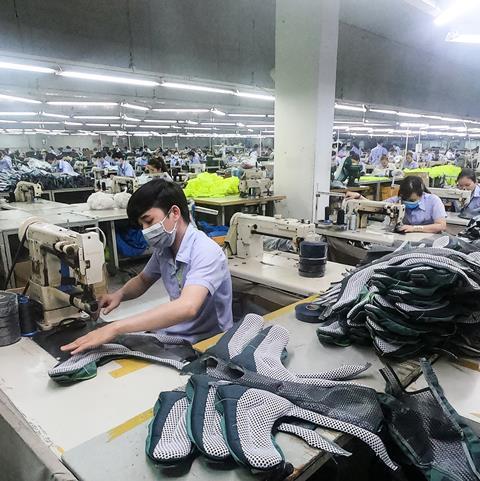 In a situation that Marco Huehn, CSR manager at Deuter, describes as "very confusing", all parties in the supply chain are working to keep production in Myanmar running in an orderly fashion against all odds, also as an act of responsibility towards long-term partners and their staff. Since the military coup, Salewa, Deuter, Montane, Mammut, Vaude and other outdoor companies that are members of the Fair Wear Foundation had to rely mostly on the information they receive through the organization's local representatives. "We exchange knowledge regularly and get good updates via Fair Wear. Nevertheless, the situation in Myanmar is dangerous and Fair Wear staff can't visit the factories in person to view the situation," said Huehn.
All brands face the same question: How reliable will deliveries be this season? The answer: "not sure." Delays are expected by all brands that The Outdoor Industry Compass interviewed, including Dynafit, Jack Wolfskin, Salewa, Vaude and Deuter. Montane's partner factory is producing around 70 percent compared to previous seasons. In addition, there is a risk of higher import costs than planned, Alexandra Letts, sustainability manager at the Oberalp Group, says.
After careful consideration, Deuter placed most of this year's orders with its long-year producer in Mynamar – trusting that the Taiwanese owner of the production facility would be able to react flexibly and move production to his location in China if necessary. This "quick exit" option is commonly used by companies that also produce outside Myanmar, and it sparks anger among hard-pressed locals. In March, enraged protesters burned down several Chinese-owned factories in the Yangon area. Concerns about China's influence in Myanmar go back a long way, but here they were compounded by a wave of anger over the possibility of shifting production volumes.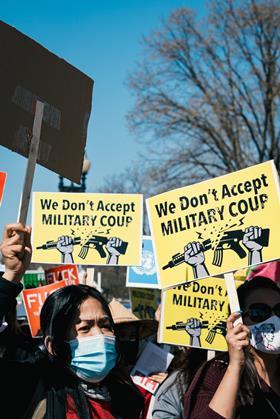 So either way, picking the right partners in Myanmar is particularly difficult: Production facilities that are not owned by the Chinese, Taiwanese, Korean or other foreigners are often linked to the military (which is also suspected of supporting forced labor), making the humanitarian situation even more questionable. Also, workers and trade union leaders from Myanmar's garment industry have played a leading role in organizing protests against the military coup – and are now threatened to be fired from those locally owned factories or arrested.
To make matters worse, the impact of the Covid-19 crisis had already resulted in layoffs and mass unemployment of tens of thousands of workers in 2020. As a rapid response measure to alleviate the economic impact on the predominantly female garment workers who lost their jobs, the EU established the Myan Ku Fund (funded by the EU's NEXUS Response for Myanmar and implemented by the United Nations Office of Project Services and Sequa's SMART Textile & Garments project staff) in April 2020. Myan Ku targets to reach approximately 50,000 laid off and under-employed garment, footwear and textile industry workers with emergency cash support. What was founded as a first remedy for the Covid-19 impact has now also become a helpful aid to all employees affected by the coup and its consequences.
The EU, the second-largest market for Myanmar products after China, certainly has leverage over the military government. Until now, companies from Myanmar could export their goods to the EU without paying customs duties. If these trade privileges were removed, it would represent a major blow to the country's economy.
So what are the prospects for the nation under military rule? Anna Pitman, CSR manager at Montane, reports: "Mobile phone internet has apparently just reopened, and a weekly DHL flight is running. We are hopeful things are beginning to improve but will continue to monitor the situation closely." The Oberalp Group, which produces at two factories in the Yangon area, also says it will continue to work with local factories as long as possible and is trying to ensure that no penalties or wage deductions are made if workers cannot get to work due to roadblocks or dangerous situations. At the same time, all the companies we spoke to are contemplating possible alternatives, as a functioning supply chain is becoming increasingly difficult – due to the closure of banks, among other things. However, the Fair Wear Foundation members from the outdoor industry have pledged to support the people of Myanmar and the local economy for as long as possible.