Patrick Armbruster, a Swiss snowboard photographer, has launched a crowdfunding campaign to support his new photo project titled "Barely Made It," an inside story about the evolution of snowboarding. While admittedly snowboarding doesn't necessarily belong in The Outdoor Industry Compass, the fact that OIC editor-in-chief Wolfgang Greiner worked with Armbruster at Snowboarder Monster Backside Magazine (MBM) in the 1990s should forgive this foray into board sports. "Brusti was a mega dedicated, talented and super sympathetic person and photographer who was really fun to accompany and to cover this sport with in its early years in Europe," Greiner says.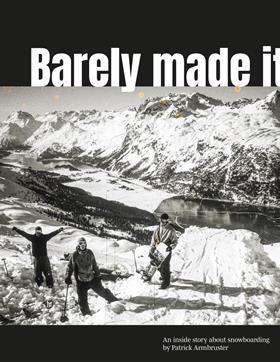 Armbruster grew up in a suburb of Zurich and discovered snowboarding through skateboarding in the late 1980s. In 1994, his first pictures were published in a Swiss snowboard magazine. In 1996 he became senior photographer at Snowboarder MBM for three years. From 1999-2002 he was senior photographer at Onboard Magazine. In 1999, he began producing one of the first European 16mm snowboard films with Drew Stevenson, which became the Absinthe Films production with Justin Hostynek. Together with Hostynek, Shane Charlebois and David Vladyka and others they released a snowboard film every year. The films won numerous awards.
"Barely Made It" is being realized through crowdfunding on Indiegogo and will cost €45. The 24x30cm coffee table book with 240 pages is expected to be delivered in March 2022.