On July 1, the #gobackpack campaign of German outdoor supplier Jack Wolfskin, launched internationally in 2017, enters its fourth round. Five protagonists will take off one after the other on their journey with the #gobackpack van known from last year's campaign or their own vehicle, experiencing new adventures and mastering very personal outdoor challenges. The #gobackpack travelyourway campaign aims to inspire all followers to go on the road themselves and try something new. The #gobackpack van was converted from a decommissioned fire truck to a road trip mobile in 2020 as part of the campaign.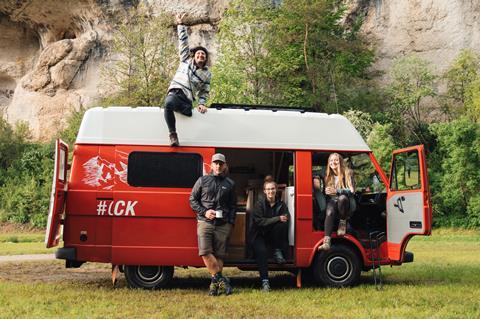 The protagonists: Photographer Gürel Sahin will swap his mountaineering boots for climbing shoes for the first time and take on the challenge of rock climbing, accompanied by German explorer and mountaineer Tom Belz, who lost a leg as a child due to cancer. Fridays for future supporter Hannah Nele will deliver a "Mental Health Talk" on the subject of Covid as her addition to the vlog. British musician Tom Gregory learns how to find shelter, build a fire and camp sustainably during outdoor training with Jack Wolfskin's survival coach Ralf. Renowned Berlin chef Duc Ngo's journey takes him to an organic farm in Brandenburg, Germany, where he harvests fresh vegetables and whips up a special dish in the van kitchen. U.S. outdoor expert and explorer Elise Sterck takes her van and her team on a challenging packrafting trip on the Escalante River in Utah.
In an accompanying competition, fans and followers are invited to submit retro photos of themselves or their parents on their tours for a chance to win a product from the newly launched Jack Wolfskin Limited Edition and a complete kit for the next backpacking trip.