The Sustainability Hub is an institution at ISPO Munich. As the relevance of sustainability as an issue has grown, so has the Hub, to include a speaker program, exhibitors and guided tours. This year, the Sustainability Hub will also be expanded conceptually. We bring you a sneak preview of two exciting new elements and answer the most pressing questions about the Sustainability Hub.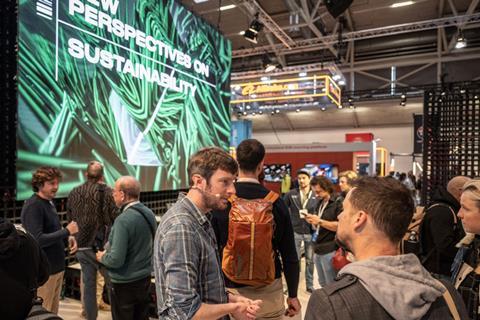 Why is the Sustainability Hub such an important part of ISPO Munich 2023?
"In 2023, our world is only 7.2 percent circular, and change is overdue," says Anna Rodewald of Greenroomvoice, the organization which has helped conceptualize the Sustainability Hub since the beginning.
"The Sustainability Hub is here to enable the Sports and Outdoor Industries to go circular, with inspiring best practice examples and smart sourcing options for materials and accessories that will either feed back into the technical or the biological cycle; materials and processes predominantly made from renewables, which will considerably bring down your carbon footprint."
As Rodewald explains, at the Sustainability Hub at ISPO Munich 2023, you will discover:
How to design for circularity
How to achieve your climate goals
How to engage with conscious users
How to close the loop
What are the main sections of the Sustainability Hub 2023?
"At ISPO Munich 2023, the Sustainability Hub, in partnership with Vaude, will once again be the meeting place for everyone who wants to exchange ideas, receive further training and be inspired on the subject of sustainability," says Alexandra Denker, Category Manager Sustainability and Snowsports at Messe München.
"At around 2,000 sqm, everything in Hall A1 will revolve around this area. We are very pleased to welcome Vaude as a valuable partner this year and to further develop the concept together.
"Because in addition to the tried and tested components, such as the speaker program, guided tours and exhibiting companies, this year we are introducing two new areas: The Material Lab and the Circular Experience.
"The Material Lab is an exhibition about innovative and circular materials. And in the Circular Experience, we are taking a closer look at the raw material mycelium. That's the root-like basic structure of various fungi."
Why the new Material Lab at this year's ISPO Munich Sustainability Hub is a "must visit"
The Material Lab is a new space within the Sustainability Hub, that reflects how sustainability is a multi-stage effort in the Outdoor and Sporting industries, beginning with material choice and design.
The Material Lab at ISPO Munich will showcase a wide variety of innovative, sustainable and ideally circular materials made from algae or waste products from agriculture, for example.
In this space, producers have the opportunity to show the life cycle and steps of their material development, from raw material, through intermediate steps to the finished material.
What makes the Circular Experience an "experience"?
"At the Circular Experience, we focus on mycelium – the root structure of fungi," explains Leonhard Nima, of Studio Nima, who developed the Material Lab and the Circular Experience at this year's ISPO Munich. "From mycelium, a variety of sustainable materials and products have already been developed in recent years and new materials are currently being researched.
"Within the curated exhibition we show a whole range of innovative solutions from packaging solutions, textile dye, and leather alternatives, to meat substitutes. We are showing the potential of mycelium as a raw material for many industries, including sports."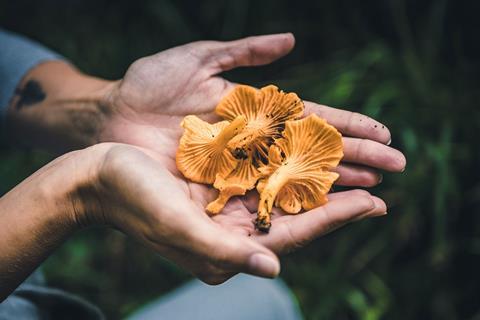 And this new addition really is an experience. "There is a lot to see, feel and maybe even smell," says Nima. "We want to offer a platform with the new area and some inspiring examples and provide new impulses for a sustainable transformation of the sports industry."
How circular is the Sustainability Hub itself?
"We found an almost completely circular system with our stand construction partner Meplan," explains Denker. "This means that most of the material for the Sustainability Hub has already been used several times and will continue to be used. It is produced and stored locally, so transport distances are also short."
What can visitors expect from the Sustainability Hub speaker program at ISPO Munich?
"We created a program with the ISPO visitor in mind. That means that our topics and speakers will always address a clear target group like retailers, product managers or i.e., the comms person of a company," says Denker. "With this focus, we ensure we provide relevant in-depth information for every visitor."
This year, the speaker program is also color-coded, so that visitors can quickly find the presentations most relevant to them.
The program which will be updated on a daily basis until ISPO Munich can be found here: https://www.ispo.com/munich