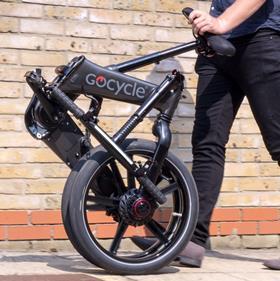 Gocycle has announced that its GXi fast-folding e-bike has been named one of Time Magazine's 100 Best Inventions. The GXi was unveiled in September 2019, and went on sale early this year. E-bike sales are booming but users often have a hard time finding a place to store their bike. The GXi is said to fold quickly – in 10 seconds - into a package about 60 cm tall and 36 cm wide, which can be carried on public transport and also be stored at the office.
Gocycle is a brand of Karbon Kinetics, the company that former McLaren car design engineer Richard Thorpe established in 2002. The business doubled its global workforce over the last 12 months in order to meet the increased demand, the company said in a release. Time's 100 Best Inventions list is assembled every year based on solicited nominations both from Time editors and correspondents around the world, and through an online application process. Each contender is assessed on key factors such as originality, creativity, effectiveness, ambition and impact.
Other Best Inventions of 2020 from the sports segment include Allbird's Tree Dasher shoes, Nike's Air Zoom Alphafly Next%, Within's Supernatural VR fitness experience, the Hydrow rower, Bontrager's WaveCel bike helmet, the Yeti V cooler series, the CrazyCap water purifier, the Hunter e-skateboard and Clip's friction-drive attachable bike motor.