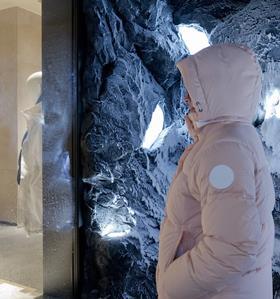 Canada Goose continues its retail expansion in the U.S. with the announcement of two new permanent locations in Las Vegas and Denver, as well as two pop-up stores in Aspen and Detroit.
The Canadian brand will open its doors at The Shops at Wynn Las Vegas on Nov. 5, joining an impressive list of coveted luxury brands. Next, shoppers can visit the brand's newest location at Cherry Creek Shopping Center in Denver in December. In Aspen, the new pop-up will be located just off East Hyman Avenue. The brand's Detroit pop-up will be located in Troy at the Somerset Collection. Both pop-up stores are slated to open by the end of 2022.
At the heart of every Canada Goose retail experience is "immersive brand storytelling." Each location features a museum-like design with new installations from the Canada Goose Art Collection that reflect deep ties to Canada's North. With more than 400 works of art in 45 stores - from paintings to illustrations to sculptures - this is the largest retail collection of Inuit art in the world. For the new Las Vegas store, the brand curated an artwork by Inuit artist Gayle Uyagaki Kabloona titled Uvagut, which means "All of us." On view in Denver are two works by Jordan Bennet, who uses a variety of painting techniques to express the different states of time, place and season. Other sculptures by Inuit artisans are on display throughout the stores. They all embody the symbiotic relationship between people and the planet - complementing Canada Goose's goal of keeping the planet cold and the people on it warm. In Las Vegas, customers will also encounter temperatures as low as -23°C and a daily snowfall in a "Snow Room."
In each store, shoppers can discover the full range of Canada Goose products for men, women and children, as well as the brand's collaborations and special capsules.