To mark the reopening of the "non-essential" retail sector after the last lockdown, German family-owned outdoor, ski and bike apparel company Schöffel has announced that it will fund the planting of a tree for every purchase made by its customers at a local sports shop. In doing so, the brand not only wants to contribute a special incentive for purchases at local retailers but also helps to protect nature. The special promotion applies to all purchases of Schöffel products in Germany, Austria and Switzerland and runs from June 11 until July 18, 2021.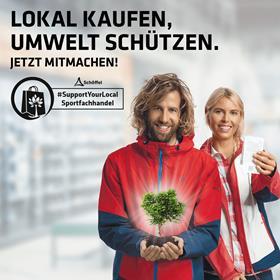 Last summer, Schöffel already launched a first tree planting initiative. Customers were offered the opportunity to donate the difference in the temporarily reduced VAT in Germany to a tree-planting campaign. At the time, around 30,000 trees were funded. Then, at the end of 2020, the company called on its customers for the first time to show solidarity with local retailers and shop locally instead of online.
The new campaign will be promoted on Schöffel's social media channels as well as in stores. It will also be supported by Schöffel athletes, including ski crosser Fanny Smith, mountaineer Gerlinde Kaltenbrunner, alpine skier Benni Raich and mountain bike guide/freeski pro Roman Rohrmoser. The individual tree plantings will be filmed and posted on social media as well.