Polartec recently announced the removal of PFAS (per- and polyfluoroalkyl substances) in its DWR (durable water repellent) treatments across its line of performance fabrics. By itself, this may not seem especially surprising, or new, as in recent years the Outdoor Industry has increasingly moved away from PFAS. However, what makes this announcement particularly interesting is twofold. First, it now includes the weather protection category of fabrics whose performance requirements have made converting to non-PFAS chemicals particularly challenging. This new non-PFAS treatment offers zero loss of durability or water repellency. Second, it's the latest milestone of a journey that began long before DWR even entered our acronym vocabulary.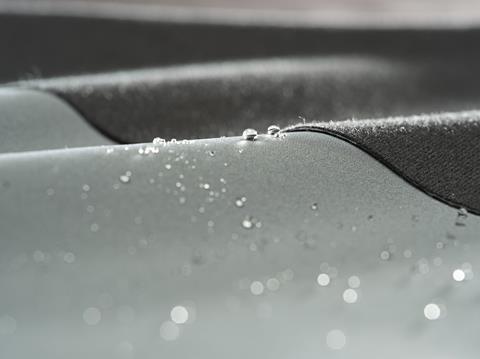 First the PFAS: In 2017, Polartec introduced the first fabric styles (fleece) using a non-PFAS DWR treatment. It wasn't talked about much, or if it was, probably referred to as PFC-free (Perfluorinated Compounds only describe a small percentage of impacted chemicals- thus the current move to labeling these chemicals as PFAS). This modest first step was made out of pure necessity. As a maker of over 500 individual fabric styles, committing to removing "PFAS from DWR" is easier said than done. Baselayers, midlayers, sweater weights, outerwear, and of course, fleece, all require their own unique and specific solutions to all facets of the manufacturing process. And all with their own performance expectations. However, a starting point was needed, and fleece was it. After the required trials and errors, the right non-PFAS recipe was discovered that could also deliver a similar level of performance as the former treatment. With this, "lossless performance" became our objective and the standard on which all conver- sions were measured.
This latest achievement not only converts the entire range of Polartec fabrics to non-PFAS DWR, it does so across its most uncompromising platform of weather protection fabrics: Polartec® Hardface®, Polartec® Power Shield®, Polartec® Power Shield® Pro, Polartec® NeoShell® and Polartec® Windbloc®.
"Trial results have exceeded even our ex- pectations. There is no loss of performance from a water repellency or durability standpoint."

Mike Rose, Polartec VP of Product Development
While backcountry skiers might loudly holler their approval, fabric engineers are a little bit more reserved. Make no mistake, this is like shouting from the mountaintop. And only half of the story.
For over 30 years Polartec has created premium, innovative, and sustainable fabric technologies. It's an unrivaled record of continuous innovation that has led to category-creating textiles to keep people warm, dry, cool, and safe. By engineering thermoregulation through textile construction, these benefits can be viscerally experienced by wearing garments made from Polartec fabrics, i.e., wearing is believing. However, over this same time period, there's been another force driving innovation whose benefits are not as easily noticed, but equally tangible and important: EcoEngineering™.
While Polartec's predecessor, Malden Mills, had been knitting fabrics since before the First World War, the sustainability "a-ha! moment" came in 1993 with the discovery of how to knit a performance fabric from yarn derived from post-consumer recycled (PCR) bottles.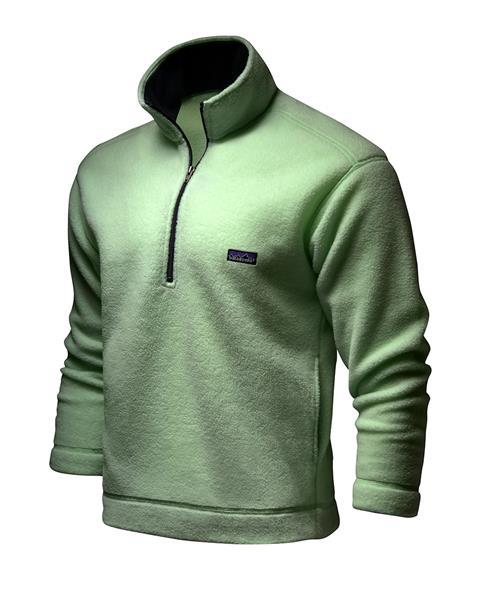 At the time, this too was seen as more of a curiosity than a tectonic shift in polyester production. Its high cost and limited design options made customer adoption scarce. Of course, one of the first to embrace this new technology was Patagonia, who was unafraid of the fact that soda bottle green was the only color available. Since that day, Polartec continually expanded what fabrics could be knit and what kind of performance could be achieved from this new type of fiber. To date, Polartec has upcycled 1.7 billion bottles into performance textiles, and now offers over 200+ fabrics made from at least 50% PCR content, and 50+ fabrics made from 100% PCR content. Every year, the numbers increase as the line between sustainability and performance becomes smaller.
Recycled inputs are just one of the foundational pillars of EcoEngineering. Over time, Polartec has adopted a more holistic approach to cre- ating more sustainable products. Today, this includes smarter chemistry (like non-PFAS DWR), greater durability (perhaps the best solution to greater sustainability), natural performance (nature-based and bio-based solutions), and recycled materials (PCR content).
Of course, truly sustainable products require a more responsible manufacturing/production process. Every year, Polartec finds new ways to reduce the consumption of energy, water, and CO2 emissions in its manufacturing plants. And whenever possible, it strives to exceed industry standards through rigorous and transparent OEKO-TEX®, bluesign®, Higg Index and GRS certifications.
Polartec's dedication to environmentally sustainable products and manufacturing continues to push the market forward. From innovating non-PFAS DWR treatments to the first performance fabric built to reduce microfiber shedding (Polartec® Power Air®), from achieving products that complement the circularity ambitions of brand partners to leading the way in recycled content, sustainable science has become the innovative force behind Polartec.
"Achieving non-PFAS treatments within our product line is an important milestone in our commitment to innovate sustainably-made performance fabrics. It's the latest step on our journey to an even more sustainable Polartec."

Steve Layton, Polartec President
A future made possible through the process of EcoEngineering™ and the science of fabric.