For the first time since the Canadian brand was founded in 1957, Canada Goose has worked with a guest designer, Angel Chen from China, to create a capsule collection.
Initially revealed during Shanghai Fashion Week last October, the spring capsule with 13 exclusive pieces for women and men follows "the transformational journey of the garments from winter in Canada to spring in China," showcasing the evolution of Canada Goose's most iconic parka, the Snow Mantra. Putting her signature twist on the brand's outerwear, Chen created two distinctive pieces within the collection: the Women's Cropped Snow Mantra Parka for Angel Chen (C$1,595), which can be worn upside down for a discerning look, and the Men's Convertible Snow Mantra for Angel Chen (C$1,795), which can be worn four ways by experimenting with the removable lower half, sleeves and hood.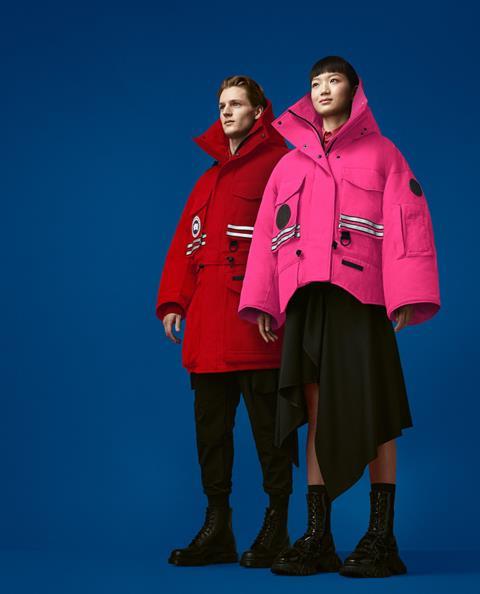 "Over the years, we have worked with some of the world's best. This season, we introduce a new type of partnership with Angel Chen, our first ever guest designer," said Woody Blackford, executive VP product at Canada Goose.
The collection leverages Canada Goose fabrics and technologies developed for the harshest weather conditions and proven in the field for decades by scientists, arctic workers and explorers. Chen interprets the brand through her perspective, not only through modern silhouettes but also with vibrant colors. Unique colorways, including a bold new red and two new shades of pink, are included to honor Angel's culture and heritage further. The collection is available at select Canada Goose stores and wholesale partners, canadagoose.com, TMall and WeChat.
Photos: © Canada Goose