Anyone thinking about sustainable models for the future cannot overlook circularity. Circular economy approaches are becoming more and more important in the sports and outdoor industry. At this year's ISPO Munich — the leading international trade fair for sporting goods — program highlights on the topic of circular economy have been integrated into the carefully curated Sustainability Hub. We give you an overview.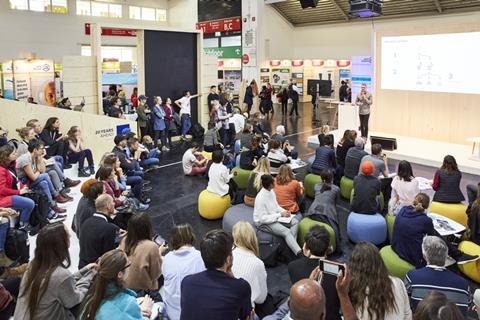 ISPO Munich, from Nov. 28-30, 2022, will dedicate an entire hall to the future of the sporting goods, apparel, and outdoor industries in the new Future Lab. Here, various thematic hubs will be grouped around the mainstage, including the Sustainability Hub. This will explore the topics of traceability and transparency, provide substantial information on climate action, environmental and social impacts, and showcase circular economies.
"Anyone who is interested in circular economies in the sports business cannot miss ISPO Munich 2022," says Lena Haushofer, Exhibition Director ISPO Munich: "We are very proud that we can offer our visitors access to content from renowned experts such as Eva Karlsson from Houdini, Antje von Dewitz from Vaude, and David Eklund from Icebug." As such, the event will promote dialogue and exchange in the industry, and thus collaborations and faster progress.
Selected "Circular Economy Talks"
Bluesign Talk "Enabling a Better Future - A Vision for Sustainability"
ISPO Munich, Monday 13 p.m. - Main Stage, Future Lab
A major highlight is the Bluesign-supported talk with Kilian Hochrein, Director of Environmental Affairs, W.L. Gore & Associates, Kutay Saritosun, Director of Brand Services and Partnerships, Bluesign, Antje von Dewitz, CEO of Vaude, and Eva Karlsson, CEO of Houdini, who has achieved 80 percent circularity with her clothing brand. Long before the circular economy was a buzzword, Vaude was already thinking about how to close material loops. As early as 1994, Vaude made moves to establish a recycling network. Its rental service VAUDE Rent has just undergone a relaunch, as Vaude's CSR strategy acknowledges that ownership is continuing to lose importance. Vaude also supports the private resale of products on an eBay platform and facilitates the donation of products to FairWertung: An umbrella organization for nonprofit and church organizations, which campaigns for greater transparency and accountability in the collection and recycling of used clothing. Just like Vaude, Houdini is also focusing on rental, resale, and then recycling. It's about a fundamental reorientation of business models, Karlsson is convinced: "I think companies really have to transform or die. Including us. Value creation is about so much more than money. Value is happiness, health, and prosperity for humans and the species we share this planet with."
Find out more about the Future Lab at ISPO Munich
On the second day of ISPO Munich, the topic of the circular economy will again be taken up on the Mainstage.
Re-Use and Re-Cycle: Bergzeit, Soex, Sneaker Rescue
ISPO Munich, Tuesday 10 a.m. - Main Stage, Future Lab
An exciting trifecta comes together on day two, at the ISPO Munich Future Lab Mainstage. A representative from outdoor retailer Bergzeit will be talking to recycling experts from Soex and Sneaker Rescue. Bergzeit has launched a reuse platform for used outdoor clothing. Soex is a specialist in the collection, processing, trading, and recycling of used textiles and footwear; working with retailers as well as brands. At Sneaker Rescue, customers can have old sneakers professionally repaired.
GreenroomVoice tours will be offered daily at the Sustainability Hub. The third party organization, specializing in the communication of sustainability practice in the outdoor sports sector, will present the gist of exhibitors' posters, place their actions into context, and help you the visitor to get a good overview of the different, interconnected angles and approaches to traceability, transparency, climate action, and the circular economy. Interested parties — whether from brands, manufacturers, retailers or other service providers — will find inspiration for their own work and can connect with the right contacts. The guided tours run from Monday to Wednesday at 11:00 a.m. The meeting point is the Sustainability Hub in the Future Lab (Hall B2).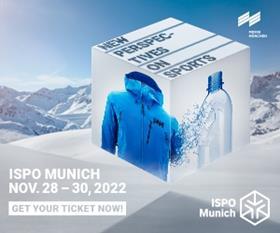 The Future of a Circular Apparel Economy
ISPO Munich, Monday 11:30 a.m. - Sustainability Hub
On Monday, directly after the GreenroomVoice tour, there will be the opportunity to join a discussion at the round table, "The Future of a Circular Apparel Economy." The panel will include: Diana Born, partner for sustainability at the consulting company K'UP and speaker at Futurewoman; Anna Rodewald, sustainable engineer and systemic designer, and co-founder of GreenRoomvoice; a Globetrotter sustainability expert will take a look at the Re-Use, Recycle and Repair initiatives of the retail group and a representative of Textile Exchange. The non-profit organization provides industry-wide certifications and standards.
EU Green Deal: Policy as a driver for change
ISPO Munich, Tuesday 10:00 a.m. - Sustainability Hub
On Tuesday, Jérome Pero, secretary general of FESI, will take a closer look at the EU Green Deal. As the EU declared when it unveiled the Green Deal in spring 2022, the plan includes proposals to make sustainable products the norm in the EU, boost circular business models, and empower consumers to make a green transition. Brands, retailers, and manufacturers that are early to meet the requirements will have a clear competitive advantage.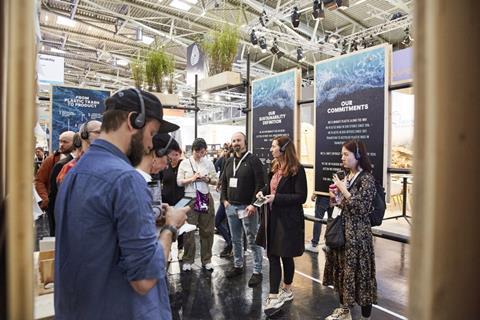 Icebug - Best Practice Vietnam
ISPO Munich, Tuesday 10:30 a.m. - Sustainability Hub
The subsequent presentation by David Eklund, CEO of Icebug, is also a welcome opportunity to learn about one company's successful sustainability and circularity efforts in detail. Footwear manufacturer Icebug became climate positive in 2019, making it the first outdoor footwear brand to do so.
The program of ISPO Munich at a glance
Patagonia
ISPO Munich, Tuesday 2:30 p.m. - Sustainability Hub
With the decision to give away Patagonia to two entities created entirely to fight climate change, Patagonia founder Yvon Chouinard made headline news. At the Sustainability Hub, brand representatives will present to us the latest from their numerous projects.
A Perfect Fit: Healthy offices for the future
ISPO Munich, Tuesday 3:00 p.m. - Sustainability Hub
The afternoon panel will discuss a broad range of issues around the future of work, office buildings, and products; including new trends in office design and use, recyclability, and the Cradle to Cradle (C2C) design principle. Healthy buildings, fair trade, and the application of C2C products will also be discussed.
The exciting panel is interdisciplinary and includes representatives from a wide range of industries: Dr.-Ing. Matthias Heinrich, Cradle to Cradle expert and team leader at EPEA (part of Drees & Sommer); Rowena Johnston, new work expert at Drees & Sommer; Marius Keckeisen, President of Blackroll AG; and Felix Jahn, corporate social responsibility manager at Schwalbe.