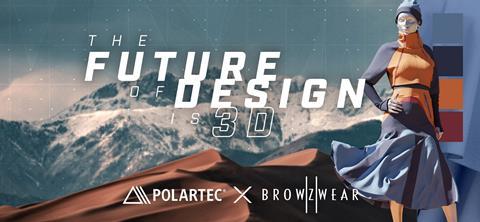 The Milliken & Company brand Polartec started a new partnership with Browzwear, a provider of 3D digital solutions for the apparel industry (headquartered in Singapore, with seven offices globally). Browzwear software users will now be able to design and create with Polartec's performance fabric range. The library of 14 different Polartec fabrics ranges from next-to-skin materials to NeoShell fabrics and is available in the VStitcher 2021.2 edition of Browzwear that went live in mid-October. Subsequent rollouts of new fabric technologies are part of future upgrades of the CAD software.
Designing digitally and previewing designs with a specific fabric allows the user to accurately visualize the fabric's texture, drape and movement in true-to-life 3D. While providing enhanced accuracy and visualization of a style, fewer garment samples should be needed in the process – which leads to less waste and investment. According to the joint company statement, Browzwear's 3D renderings can be leveraged in the sales process, enabling data-driven manufacturing and reducing overproduction.
With the new collaboration, Polartec looks to empower its customers, ensuring they have the tools necessary to continue to efficiently design and reduce inefficiencies that impact businesses and the environment. Among the roughly 650 Browzwear users are Patagonia, Nike, Adidas, Burton and VF Corporation. For Polartec, the partnership with Browzwear is part of its eco-engineering initiatives to creating more environmentally friendly products.