For outdoor and sports equipment brands, the rental business is an essential pillar for a sustainable business. And now, a growing number of companies are offering apparel as well.
The latest news on this comes from Rab. The British outdoor brand, part of Equip Outdoor Technologies, will offer outdoor product for rent in the U.K. starting March 4. The service is part of Rab's global sustainability goals and is initially a test run. On offer will be high-quality technical outdoor clothing as well as equipment – tents, trekking and hiking backpacks, waterproof covers and sleeping bags – from Rab and Lowe Alpine (also part of Equip) for hiking, mountaineering and climbing.
Not only hardware: rental of clothing and equipment
Rab wants to avoid high-quality products being used too infrequently. On the other hand, rental can also serve as a test possibility for consumers before making a buying decision. Rab's equipment can be rented for 3 to 21 days, currently only in the U.K. The equipment is then checked and cleaned by Rab before being returned to the rental shop. Equip plans to expand the program to other countries if the test is successful.
Rab joins other progressive outdoor companies that are setting up, or at least testing, permanent rental services: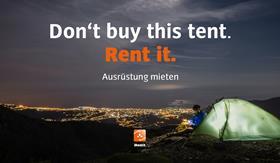 Vaude with a first review
Vaude started iRentit a few years ago. "Response was good," the company responded when asked by The Outdoor Industry Compass. At the moment, the program is on hold due to the conversion of the ERP program, but Vaude will restart it in spring. The focus will continue to be on hard goods: backpacks, bike bags, tents, sleeping mats. Vaude's goal is to make renting products easier and more intuitive for customers and to make processes more efficient. In addition, Vaude wants to contribute to the transformation with the rental offer. "Away from more and more ownership, towards a sharing economy. At the same time, we see this as a perspective for becoming more independent of our core business, the sale of new products," a spokesperson said.
Retailers joining the rental game
Some retailers are also starting to establish – or even expanding – their rental services. These include REI (U.S.), Globetrotter (Germany) and Sports Basement (U.S.). At the same time, platforms such as Kitlender or Arriveoutdoors (both in the U.S.) specialize in the rental of outdoor and sports equipment. Ecoski from the U.K. has a very clear commitment: Repair, rent, preowned or new "kit with a conscience." The retailer offers clothing for adults and juniors for rent, including more than 25 brands for women. This kind of service is apparently very much appreciated by younger customers: According to a recent study, Gen-Z in particular is very receptive to rental services.